Look who found our Natural Mattress…

Several years ago The Today Show had an interview about healthy mattresses. We were pleasantly surprised to see Matt talking about a chemical free mattress made with a cotton and wool naturally fire-resistant cover surrounding natural latex.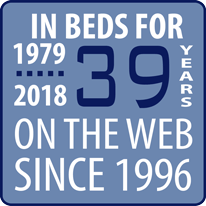 Back then we were the first… but today we continue to strive to make the healthiest and most comfortable mattress in the world. Our cotton and wool are organic. We use only natural Talalay latex cores. We still offer each of you your personalized firmness: Soft, Medium, Firm, Extra Firm or SuperFirm. We have added the vZone: zones (head, shoulder, lumbar, hip, knees and feet) that can be changed to fit your body. This ability to adjust the layers of firmness deep in the FloBed along with our unique vZone results in the most popular latex mattress in America. All Natural. Good for you… Good for the whole world.