Natural Latex Vegan Mattress
$ 1,799.00 – $ 4,399.00

All the natural support of a FloBed latex mattress but made without wool for our vegan customers. The vegan mattress line is made with covers of organic euro-knit cotton, quilted to organic cotton batting, surrounding 100% natural Talalay latex.
-
What is Vegan Bedding?
The term "vegan" describes a product that doesn't contain any materials that are derived from animals, such as feathers or wool. Vegan bedding is bedding that does not contain commonly used materials such as leather, silk, wool, suede, fur, or down.
Is Latex Vegan?
While not every product containing latex is vegan, the Talalay latex used in FloBeds products is 100% vegan-friendly. This is because it is completely natural, Oeko Tex certified latex that is sustainably harvested from rubber tree plantations. FloBeds mattress cores are made from pure Talalay latex, and no animal byproducts are ever added or used.
FloBeds Vegan Mattresses
Our natural vegan mattresses feature 100% Talalay Natural Latex (latex so pure, safe and healthy it received the Okeo Tex Certificaton).  To cap it off, all our vegan mattresses are encased in luxurious organic euro knit cotton, quilted together with another layer of organic cotton for a clean, pure vegan mattress.  Our certified organic cotton covers are two-ply and made with only the best, sustainably grown, chemical-free cotton for ultimate comfort and breathability.
Our multi-layer latex vegan mattress cores accommodate the needs of each individual sleeper, by providing complete customization according to which firmness level your body requires. Our Mattress Firmness Selector will help you craft your perfect night's sleep. You can choose your own firmness combinations, and if you are not satisfied, you can readjust it again and again until you are completely satisfied — that is our Goldilocks Guarantee!
We also have two kinds of vegan pillows — twice-shredded and pin core, both of which also come with our soft, organic cotton covers.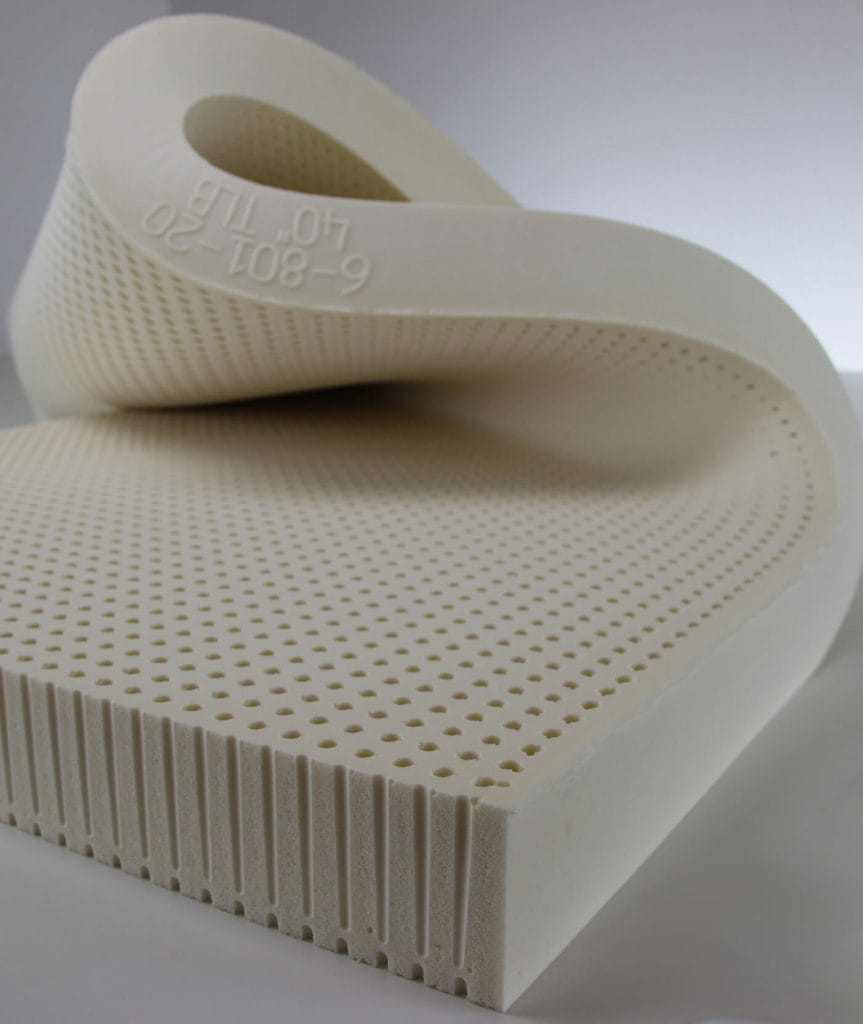 What Is the Best Mattress Material?
Our latex is not only vegan but completely sustainable and incredibly durable. Our mattresses come with a 20-year warranty, because we are confident that the Talalay latex will hold its shape like no other mattress material is able to — including latex made using the Dunlop technique.
Because it is so customizable, this latex also provides the best comfort for anyone. If you have trouble sleeping, it can often be because you have trouble finding a bed that suits your needs properly. There is no such concern with a vegan mattress from FloBeds.
All of this is what makes our latex the best organic material for mattresses. It is not only fully vegan, but it is also incredibly durable — while still providing enough give at important pressure points to comfortably support your body in the most effective way possible.
Our Talalay latex is also free of chemicals and any hazardous chemicals that you might find in other bedding, as well as being inherently hypoallergenic and antimicrobial, which makes latex the healthiest mattress as well. Whether you are shopping for yourself or your family, our mattresses are all Oeko Tex certified, so you can rest easy knowing that they are completely free of harmful chemicals.