Latex Mattress Invention
Top to bottom, side to side and head to toe: We reinvented how a mattress should provide for the firmness and comfort of each sleeper... yet remain adjustable.
The milk of the rubber tree has natural qualities that make for the ideal sleep surface. 100% Natural Latex provides the best comfort and support for your individual sleep. And real latex foam rubber does not break down like the regular materials used in mattresses today (polyurethane, memory foam and who-knows-what super-secret material promoted like the snake-oil of yesteryear;) FloBeds Natural Latex: Good for you... good for the whole world!
FloBeds All-Natural Latex Mattress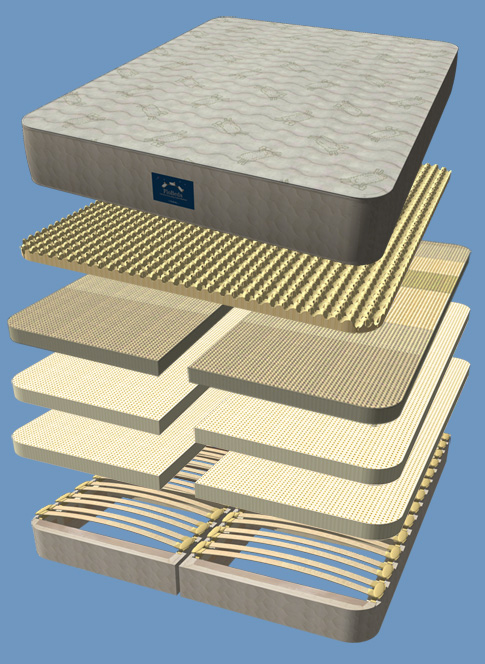 The FloBed Latex Mattress
Cover: Made with organic cotton EuroKnit quilted to 1" organic wool.


Comfort Layer: 2" Talalay latex convoluted for pressure relief, comfort and air flow.


vZone Layer: 3" Talalay zones to provide targeted shoulder and hip pressure relief. In cotton sleeve with zippers for ease in adjusting zone firmness.


Core Layer: 3" Talalay latex Soft, Medium, Firm, X-Firm or SuperFirm. Each sleeper gets a Just Right firmness.


Core Layer: 3" Talalay latex Soft, Medium, Firm, X-Firm or SuperFirm. Each sleeper gets a Just Right firmness.


Euro Slat Foundation: Contouring bent beech slats from Europe to provide both give and rotation, responding to the shifting planes of your body.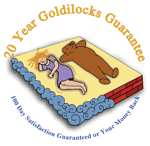 100 Day Money Back Guarantee - Satisfaction Guaranteed
If your body is not completley happy with your FloBed latex mattress, we will refund your purchase price. You only pay shipping.
Goldilocks Guarantee - Make Sure Your Mattress is always Just Right
Change your firmness anytime for the 20 year life of your new mattress. Only $75 for the first five years.
Life happens... make sure your mattress can change with you!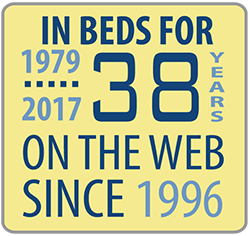 Customer Service
Look far and wide... you won't find a company that takes care of its customers sleep needs better than FloBeds. Ask around... it's our claim to fame, after making the best latex mattress possible. (That, and building the best nights sleep you ever dreamt of:). And we will be here when you need us.
... and a B-Corp too!
Along the lines of treating customers like we would like to be treated: Last year FloBeds decided to take our company to the next corporate level, joining other companies that use the power of business to solve social and environmental problems.

Back in the 1996 we had a crazy dream: allow customers to design a quality mattress online that would meet their sleeping needs… not just a good compromise, but a mattress each sleeper could choose the right mattress configuration for their body. 5 years later Temma Ehrenfeld of Newsweek coined "Goldilocks Was Right" after purchasing a FloBed and then writing about it...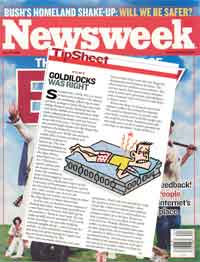 and we've been helping folks make their bed "Just Right" ever since.
The one thing we have never lost sight of is treating our customers like we would want to be treated. That adds up to: 1) making our mattresses out of the best materials we can find -- Talalay latex of just the right firmness combinations cut precisely to fit together in a single unit of individualized comfort and 2) unparalleled customer service. FloBeds Blog