We are making appointments to allow you to have the showroom to yourself while you try the beds.
Call 707-964-5700 or email info@flobeds.com to make an appointment.  Our hours are: Mon-Fri 8am-5pm PT and Sat 10am-5pm.

It's a good idea to buy a mattress from a company that has been in business longer than its warranty!

It's a good idea to buy a mattress from a company that has been in business longer than its warranty!
Certified Pure Green Natural Latex Mattresses

Did you know that you spend 1/3 of your life in bed? It's true! As a result, it's really important to think about what you're sleeping on. FloBeds certainly has. That's why we created our pure green natural latex mattress selection
Manufacturing the Perfect
Pure Latex Mattress
When it comes to creating the leading green mattresses on the market, FloBeds cuts no corners. We make each bed with only the finest materials to ensure premium quality and an incredible night's sleep. 
A Truly Pure Green Natural Latex Mattress
Some companies use the term "100% organic latex mattress," but don't let them fool you — there's no such thing. When companies claim to have a certified organic mattress, it can still be made without using the most eco-friendly practices or sustainable resources. The fact of the matter is that the typical criteria used to classify something as "organic" are often flawed. However, there are better criteria you can use to decide which mattresses are the most eco-friendly. 
While no mattress can be 100% organic, our pure green latex mattress selection is as close as it gets. What's our secret? The Talalay Latex. This exceptional material is unparalleled in comfort, firmness, longevity, durability and breathability. Superior to Dunlop latex, Talalay makes each pure green mattress we offer hypoallergenic, antimicrobial and in compliance with the global organic textile standard (GOTS.)
What Sets Our
Green Mattresses
Apart?
At FloBeds, we believe in doing things the right way instead of the easy way. Each pure mattress we offer includes the following: 
Personalization

. Every

green latex mattress

we sell is personalized and

adjustable

. You can create your own firmness that has contoured support with adjustable pressure relief zones, and even adjust the firmness as time goes on.

Certified pure ingredients and materials

. All of our

green mattresses

are ethically made and chemical-free. There is also no polyurethane foam, and it's spring-free. 
The Goldilocks Guarantee. Your comfort is our number one priority. That's why over the entire 20-year life of your bed, you can order a new firmness based on your needs. If you aren't 100% satisfied, we'll do everything we can to make it right.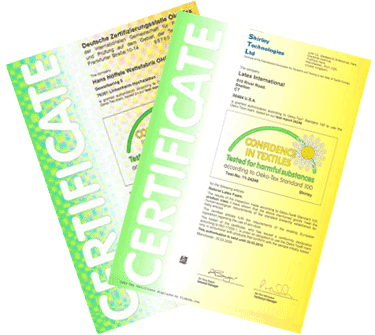 Certificates of Purity:
Oeko-Tex is an organization that looks world-wide for assuring human ecological safety in regards to textile related products. Their strict guidelines ensure that products are free of petroleum-based fertilizers, pesticides and synthetic products. FloBeds is proud to have a Oeko-Tex certificate for our pure green natural latex mattress selection. 
A Difference You Can Feel
The components you find in our green mattresses are free from unnecessary and harmful chemicals. We use sustainable ingredients and processes wherever possible, from our latex cores to our bedding covers. In the long run, you will be able to feel the difference and have the peace of mind and comfort that you need after a long day. 
Sleep Well with a
Pure Green Latex Mattress
from FloBeds
Whether you're looking for a pure green natural latex mattress topper or a new latex mattress, FloBeds has you covered. We offer a wide range of designs so you can get the perfect, natural mattress with GOTS-certified materials for your living space. Shop our pure green latex mattress selection today!