Certified Pure Green Natural Latex Mattresses

Did you know that you spend a third of your life in bed? It's true! So you might want to consider for a moment what you're sleeping on. FloBeds has. We were the first to use wool to pass the federal fire standards for mattresses. Organic Cotton is obvious… but we even wash it before quilting it to our organic wool. Solid Ponderosa Pine builds up our slat foundations, FSC certified of course. You deserve the best in your pure green natural latex mattress because you spend so much of your life on it, and here at FloBeds we have created the best! 
While some companies use the term "100% organic latex mattress,"  it can be misleading. No mattress is fully organic, even with these kinds of classifications, however our Flobeds Talalay mattress is the best green mattress around, and a heck of a lot more natural and sustainable than most of the "100% organic latex mattresses" in the industry. Sometimes when companies claim to have a certified organic mattress, it can still be made without using the most eco-friendly practices or sustainable resources. The fact of the matter is that the typical criteria used to classify something as "organic" are often flawed, but there are better criteria you can use to decide which mattresses are the most eco-friendly. Primarily, it is what materials are used in your mattress. 
The FloBed difference is what sets our mattresses apart. 
Every mattress is personalized. You can create your own firmness that has contoured support with adjustable pressure relief zones, and even adjust the firmness as time goes on. In fact, for 20 years you can order a new firmness based on your needs — it's our Goldilocks Guarantee!
Our mattresses use 100% Natural Talalay latex. There is no polyurethane foam, no Dunlop latex, and it is spring free. 
Lastly, our mattresses have certified pure ingredients. Our mattresses are ethically made and chemical-free. 
These materials are what really set us apart from the rest.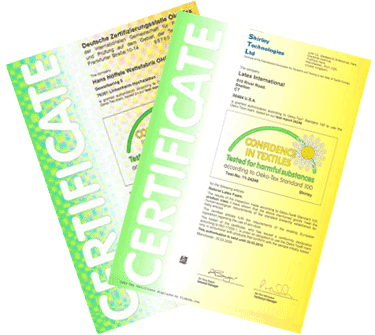 Certificates of purity:
See our Oeko-Tex Certificates above for our pure green natural latex mattress. You can find out more about how we earned our certifications from Oeko-Tex here. Oeko-Tex is an organization that looks world-wide for assuring the human ecological safety in regards to textile related products. Their strict guidelines ensure that products are free of petroleum-based fertilizers, pesticides and synthetic products. 
Find also our Organic Certifications above also.
A difference you can feel
The components you find in our mattresses are free from unnecessary and harmful chemicals. Synthetic materials can cause a lot of problems, including encouraging dust mites and other allergens. Because we use Talalay latex, every mattress is naturally hypoallergenic and antimicrobial. We use sustainable ingredients and processes wherever possible, from our latex cores to our bedding covers. In the long run, you will be able to feel the difference, and as a result have the peace of mind and comfort that you need after a long day.