Natural Talalay Latex Mattress Care Tips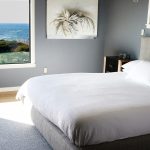 Natural Talalay Latex Mattress Care
Cover Care
Our covers unzip, so you can easily hang your mattress top in the sun. We suggest sunning your mattress-top a couple of times a year. Sunning will kill dust mites. Latex and visco-elastic are both dust mite resistant. If you suffer from severe allergies, with the top off, you can vacuum the inside top of your mattress components to remove allergens. That, combined with your sunned mattress top will provide you with cleanest and most comfortable mattress possible.
Your mattress cover may be spot washed with cold water and mild soap. It should be line dried.
Do not machine wash.
Do not put in dryer.
Latex Care
Your FloBeds Talalay Latex Mattress is an incredibly durable and resilient foam rubber. Used and cared for properly it will last you 20 years and more. Encased in the FloBeds cover it is protected from most of the environmental factors that can shorten the product life. The most common factor that can speed up natural oxidation of latex is sunlight. Keep your FloBeds latex inside your cover with your bedding on top. Once or twice a year, remove the top cover for sunning outside, but be sure to cover the top of your unprotected latex, especially if it is in near a window.
If you spill something on your latex mattress, the latex can be washed with a mild soap and water. Dry first by compressing latex with towel to absorb excess moisture and then air dry with a fan for several hours.
Your latex does not need to be turned or rotated. Remember, you can adjust the firmness of your FloBed Latex Mattress by rearranging the order of your cores. The latex core closest to your body has the greatest affect. Firm over Medium is firmer than Medium over Firm. You can order new cores from FloBeds if you don't have the firmness adjustment available.
Care of DreamFit Sheets
Machine wash separately in cold water.
DO NOT BLEACH. Tumble dry on LOW heat. For best results, remove promptly from the dryer.
DO NOT USE LIQUID FABRIC SOFTENERS ON YOUR DREAMFIT SHEETS. Liquid fabric softeners can discolor and/or change the texture of the product.
SOME HAIR AND SKIN PRODUCTS MAY CAUSE DISCOLORATION OF COLORED SHEETS.
PLEASE TEST A SMALL INCONSPICUOUS AREA FIRST.
 St. Dormeir Mattress Protector Care
Your new St. Dormeir wool protector will, with care, give you many years of comfort. Please note these simple instructions; following them will greatly extend the life of your protectors.
Machine wash in warm (Not Hot) water, on a gentle cycle. Use a good quality detergent. Do not bleach, or use a detergent that contains bleach. Use the maximum water level. Do not launder any other items except St. Dormeir wool protectors together. Do not overload the machine. We recommend washing a mattress protector by itself, or no more than two pillow protectors in a load.
Machine dry on gentle, at medium, NOT high heat. Do not overdry, as this can make the wool fill brittle. You should remove your St. Dormeir protector from the dryer as soon as it no longer feels damp. Do not Iron. Do not Dryclean.
The cotton terry cover is a special type of weave that maximizes absorption, to ensure the driest, most comfortable sleeping environment. Terry weave will "lint" more than other weaves, so please be aware that after every laundering, you will find some lint in your dryers lint trap. This is normal.
After laundering, you will find your St. Dormeir protector will appear to have shrunk a little. However, when you put the protector back on your mattress, it stretches easily to fit. They are made this way to always fit properly without bunching. Pillow protectors are made slightly oversize, and will fit beautifully after their first wash.
 Coyuchi Organic Sheets
Coyuchi Care Instructions:
100% Cotton, Cotton/Linen, 100% Linen
All Coyuchi organic cotton and linen products are machine washable. We recommend using warm water and non-phosphate soap in the washing cycle, with a cool, tumble or line dry. The use of bleaching agents may diminish the brilliance and depth of the colors, so we don't recommend using any whiteners.