Natural Talalay Latex Big and Tall Mattress
$ 2,949.00 – $ 5,699.00
A mattress is made to provide ideal comfort while you sleep. However, a comfortable mattress cannot realistically be standardized for everyone. Each sleeper has unique needs based on their own body and sleeping style. This includes people who are heavier and need additional support and cushioning… or those who need additional cooling layers.   Don't settle for a mattress that wasn't made for your body type or the way you sleep. Learn more about why our Big & Tall Latex Mattress is the
best mattress for people with special needs and how it can be customized just for you!
Product Features
Covered with organic cotton and wool plus an additional layer of cooling horse hair
5 layers of latex, 16 inches thick
additional support and cushioning
adjustable zones provides targeted pressure relief for your hips and shoulders
4 layers of Talalay latex core, an egg-crate topper
---
-
Why Choose the Big and Tall
Fully Personalized Mattress
No two people are built the same. That is why all FloBeds latex mattresses are designed for each individual sleeper. While most mattress firms will provide a few different firmness options, FloBeds allows you to build your entire bed in a way that perfectly conforms to your body — and customize it exactly the way that you want it. This goes right down to the foundation or adjustable mattress firmness.
Dealing with back pain? Need additional support at certain pressure points? Perhaps you sleep with a partner who needs a completely different firmness to you? Anything you need to sleep well, FloBeds can provide. Not sure if you have the right firmness? No worries — Flobeds will help you adjust your firmness at any time throughout the 20-year life of the mattress.
Additional Support
Our big and tall mattress is made with bigger people in mind. Typically recommended for people 240lbs and over, it provides additional support to those who need it. Consisting of 5 layers of 100% natural talalay latex, and two additional thin layers of coconut fiber and horsehair, we can guarantee that you will stay cool and comfortable all night.
5 Layers of Premium Natural Latex
Our mattress for big and tall sleepers is made using 100% Natural Talalay Latex surrounded by organic cotton quilted to organic wool. Not only is our latex super comfortable, but it's also enviromentally sound in every way.
The Best Mattress For Your Health
The latex used in our beds is naturally hypoallergenic and anti-microbial. This means you can rest easy knowing that your natural latex bed is free of not only toxic chemicals but bacteria, mold, and mildew — and it's also three times more resistant to dust mites than a traditional mattress. This makes FloBeds mattresses the best for those with health issues such as allergies, as well as children — did we mentioned we're certified "baby safe" by Oeko-Tex?  Many companies will claim to sell a natural or "organic" latex mattress, but are unable to back it up. We can.
Even if you are worried about a latex allergy, there is no need to be concerned with our mattresses. Not only are allergies to this kind of latex extremely rare, but you have your regular bedding acting as a barrier, as well as our thick, sewn-in cover of natural cotton and wool.
Horse Hair
Our mattress is crafted with a layer of horsehair filling that offers great benefits for your sleep. It not only has excellent breathability but also works wonders at absorbing moisture, keeping you dry and comfortable the entire night. Horsehair is a fantastic option for allergy sufferers because it is also naturally hypoallergenic.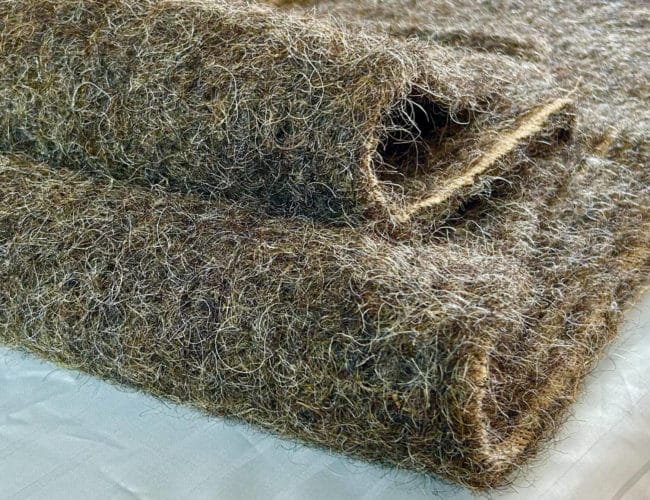 Coconut Fiber
Derived from the husk of coconuts, coconut fiber is highly breathable, hypoallergenic, and great at absorbing moisture. The natural resiliency of coconut fiber helps maintain our mattresses's shape and gives long lasting support.
In 2010, we sold one of our popular FloBeds to Joe from Wisconsin. A month later, he decided to soften up his side of the bed. The following year, he decided he could use more pressure relief in his shoulders. He loved the bed and especially the ability to change the mattress to fit the unique contours of his body.
Little did we know that Joe was a sports agent. He started thinking about how his athletes, who use their bodies every day in extreme circumstances, could use the incredible recovery
qualities of a FloBed. And if they need to change the mattress because of something that occurs in play… they can. He suggested we develop a "luxury performance FloBed" for his players. We built one for Da'Quan Bowers, then a graduating defensive end from Clemson going into the draft.
Next, Joe sent us a request to create a mattress for Olympic gold medalist Hannah Teter. As a professional snowboarder, she obviously needed something a little different than Da'Quan. We talked it over and came up with a custom performance mattress for Hannah. Then we made an Olympic-sized shredded latex poof chair. We've been cheering her on ever since.
Rounding out our athletic FloBeds debut was Josh Spence, pitcher for the San Diego Padres.
"I need to be physically at my best over 200 constant days a year, and I feel FloBeds gives me the best opportunity to achieve that," Josh explains. "Recovery is vital in the game of baseball, and my custom FloBed, designed specifically for me, definitely assists [in] this process."
The Sports Performance Mattress Becomes Our

Mattress for Big and Tall

Sleepers
We had folks who needed a mattress that would last, but that was still comfortable. They found FloBeds. We kept building custom mattresses for heavy people, taller people and those who are in sports, tailoring each one to their specific mattress needs for relieving pressure and helping them feel great. Being comfortable when you sleep is not a standard measurement. It's based on people's body, weight and activity. Let FloBeds help you get the best sleep of your life. Discover our selection of mattresses for the big, tall and everyone in between.
Start building your performance mattress now! At FloBeds, we stock all the mattress components, so there is no special-order waiting required. Customize your mattress today and let us prove to you that FloBeds is the best mattress for heavy people, athletes and tall people alike.
Looking to elevate your sleeping experience even more? Check out our selection of Talalay Latex mattress toppers, Talalay Latex pillows, organic cotton sheets and much more. You deserve a great night's sleep. Let FloBeds help.
Goldilocks Guarantee
Change Your Firmness Anytime for 20 Years
FloBeds knows how important the mattress you sleep on is. We know you can't be positive what firmness is going to be right for you. Not on the internet, nor on a showroom floor for twenty minutes (even if they would turn the lights down and leave the room).
The comfort experts at FloBeds can help you determine what firmness is best for you, based on what you have been sleeping on and what you do and don't like about your old mattress. Our exclusive Mattress Selector helps you decide which model is right for you. If you get it wrong, we'll still make right.
Goldilocks Guarantee
We know how important the mattress you sleep on is!
Our unique design, with changeable firmness layers means you will most likely have the comfort your body needs. But if you don't, our component design allows us to promptly send just the component you need to achieve the comfort you deserve. For King, Queen and Standard Mattresses you can order up to two new firmness layers for just $75 each in the first 5 years (plus $30 each shipping). You don't have to send anything back. Over the entire 20 year life of your bed we will send you up to 4 new latex cores to help you get the support your body needs.
( If you have a Twin size mattresses you may order 1 core at $75 and one more additional core.)
And since we can ship it via UPS, it is easy for you to receive your new firmness. With our vZone, designed for
specific pressure point relief
, we will send you any latex zone you need at no charge for the first 100 days. For the next 5 years, just $20. Nothing to return. If you are not 100% satisfied with the firmness you select, we will help adjust your mattress for your body. So
REST ASSURED
. We
guarantee
your comfort. The bed that will always be "Just Right". Here's how it works for beds purchased after November 2010:
Cores

Year
Cost of first 2 Cores (1st if Twin Size)
Cost of Cores 3 and 4 (2nd if Twin size)
1-5
$75 ea
$150 ea
6-10
25% of Core Price ea
50% of Core Price ea
11-15
50% of Core Price ea
75% of Core Price ea
16-20
75% of Core Price ea
75% of Core Price ea
Add $100 to above prices for SuperFirm For reference, our Core Prices (Soft to XFirm) are: Natural Queen………$469 Natural King………..$579 Add $100 for SuperFirm
For mattresses purchased before November 2010, we still offer a 25% discount on new cores. FloBeds knows that your body will change. You may get thinner or you may gain weight. You may suffer from an injury or heal. But most of us will change... and the support your body needs may change too. FloBeds want to make sure your bed is always "Just Right".
Zones

Year
Cost of first 2 Zones (1st if Twin Size)
Cost of Zones 3 and 4 (2nd if Twin size)
1-5
$20-Hip/Foot $10-Lumbar/Shoulder ea
$40-Hip/Foot $20-Lumbar/Shoulder ea
6-10
25% of Zone Price ea
50% of Zone Price ea
11-15
50% of Zone Price ea
75% of Zone Price ea
16-20
75% of Zone Price ea
75% of Zone Price ea
For reference, our Zone Prices Lumbar and Zone) are: Natural Queen Lumbar Zone…….$49 Natural Queen Hip Zone …….$99 Natural King Lumbar Zone…….$59 Natural King Hip Zone …….$119
100 Day Guarantee
If we can't get the Mattress your body needs within 100 days (which 95% of our customers find we can... see below), we will refund your purchase price (not including shipping).  Within the continental US,  if you use your original bags & cartons and request Return Shipping labels, return cost for a FloBeds mattress is $99. Return cost for a FloBeds Slat Foundation is an additional $99.
Electrical Adjustable Base Purchasers:  Note, if you are buying an electric adjustable base, unlike a FloBeds Slat Foundation which ships via UPS, Adjustable beds ship via common carrier. In the interest of full disclosure, we want you to know the freight to return a Dual King Adjustable Bed will be in the $300-400 range. In the rare instance you find our mattress is not right, you may want to keep your top-0f-of-the-line Leggett & Platt adjustable base with can be used with any flexible mattress.   (Leggett & Platt provides in-home warranty service, so you will always be covered.)