Talalay Latex Mattress By FloBeds
Is a Talalay Latex Mattress Right for You?
Getting a good night's sleep is essential to overall health. So why would you settle for just any mattress? At FloBeds, our 100% natural custom latex mattresses will provide a restful night's sleep no matter what your needs.
What makes FloBeds mattresses unique? At FloBeds, we craft our mattresses from supple, durable Talalay latex. FloBeds' Talalay latex mattresses are breathable, hypoallergenic and environmentally friendly. All of our Talalay mattresses are covered with organic cotton, giving an extra layer of comfort. And every FloBeds latex mattress is customizable for each sleeper.
What Is a Latex Mattress?
A latex mattress is created using the sap from a rubber tree. To convert it into foam, the sap must undergo an intense process that starts with the sap being whipped into a foam and placed into a specially made mold that is tightly sealed. Using suction, the sap is evenly distributed throughout the mold. The mold is frozen and then quickly heated, resulting in the sap becoming solid.
What's the Difference Between Dunlop vs. Talalay Latex?
The two most used latex manufacturing processes are Talalay and Dunlop. For many reasons, Talalay is the best process for manufacturing latex.
Talalay latex may be a little more expensive than Dunlop but for good reason. Talalay latex is much more supple than Dunlop latex, making it perfect for side sleepers as it provides more pressure point relief. Talalay is also more durable and more consistent than Dunlop latex. These properties allow a Talalay latex mattress to keep its form for years longer than a mattress made from Dunlop latex.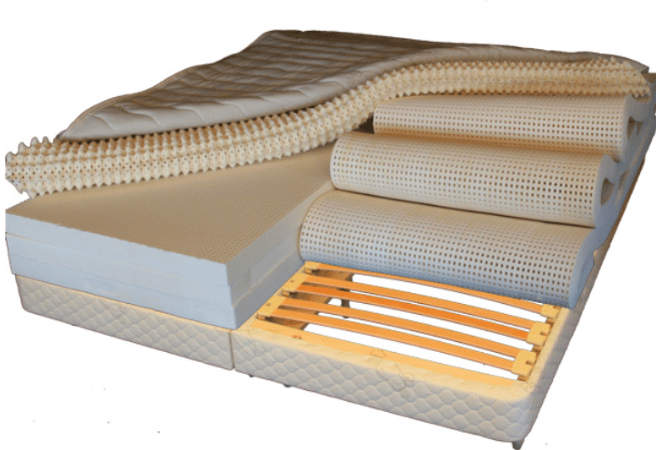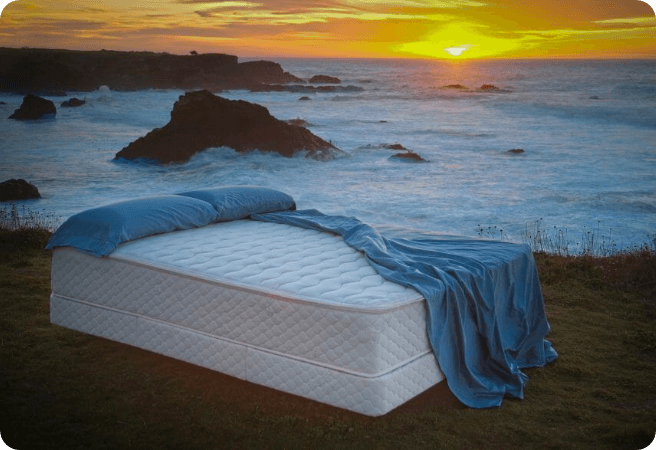 Is Talalay Latex All-Natural?
We take great pride in making our latex mattresses safe for our customers. Our Talalay latex mattresses are all made from natural latex and are 100% natural.
What Makes FloBeds Talalay Latex Mattresses Special?
FloBeds believes every customer deserves a good night's sleep, and we use the finest products and the safest manufacturing techniques to ensure our customers are satisfied. What makes a FloBed so special? Five things that stand out about our mattresses are they are breathable, environmentally friendly, hypoallergenic, topped with organic cotton and wool and custom-made just for you.
Breathable
The breathable design and cell structure of Talalay latex gives you a cooler, more comfortable night's sleep. Our 100% natural Talalay latex mattresses are seven times more breathable than other types of latex or foam.
Environmentally Friendly
Our eco-friendly mattresses are created using natural, biodegradable ingredients along with safe, green manufacturing techniques. You can sleep easy knowing your bed is a chemical-free sleeping environment.
Hypoallergenic
The Talalay latex we use to make our beds is naturally hypoallergenic. It's also anti-microbial, so you can trust that your bed is free of toxic chemicals, bacteria, mold and mildew. All this means FloBeds mattresses are the best for anyone with issues such as allergies. Worried about a latex allergy? Talalay latex allergies are extremely rare. Also, your regular bedding will protect you, as will our sewn-in cover of natural wool and cotton.
Organic Cotton and Wool
Every Talalay latex mattress we sell is covered with 100% organic cotton and wool. Normally, cotton is a very chemically-dependent crop, but the cotton used by FloBeds is different. We grow and process our organic cotton without chemical fertilizers, insecticides, pesticides or herbicides.
Custom Built for You
Every bed we make is built just for you. Each member of a couple can get the firmness their body needs on their side of the bed. And with our Goldilocks Guarantee, you can adjust the firmness for the 20-year life of your new Talalay latex mattress.
And of course our customer service. Here at FloBeds, once you get our mattress, you listen to your body, we listen to you and together we get your mattress just right.
Try a Talalay Latex Mattress From FloBeds and Discover the Difference
We are so confident that you'll love our 100% natural Talalay latex mattresses that we offer a 100-day money-back guarantee. If you're looking for a comfortable night's sleep, you need a mattress that can be adjusted to fit your needs, like our latex mattresses. We'll even help our customers adjust the firmness of their mattress at any point during its 20-year lifespan. FloBeds is a family-owned business and we ensure that you are put first. Mattresses are an investment, so let's invest in you together. Browse our online store or call us anytime from 8 a.m.-5 p.m. PT at 1-800-356-2337 and find a mattress that fits your needs.
Shop Talalay Latex Mattresses