Sweet Dreams Are Yours at The Albion Schoolhouse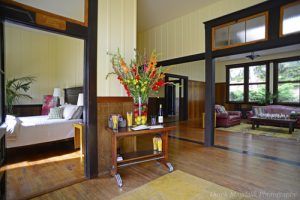 Last year we had the pleasure of working with the Albion Schoolhouse. This beautiful vacation rental on the coast of Northern California has multiple FloBeds.
"Enjoy fresh air, the comforts of a fine hotel; a stage with live mics; a bounty of totally excellent board games; yoga mats; secret gardens; a big tv screen and a fully stocked kick-ass chef's kitchen. Constructed in 1924, this grammar school served the town's schoolchildren and community until 1995 when it was purchased by William Bottrell who spent 20 years lovingly restoring and renovating it."
If you are looking for a getaway where you can get some peace, quiet and good sleep, look no further! It is always hard to go on vacation and leave the comfort of your FloBed Latex Mattress. A very important part of vacation is having the chance to catch up on your sleep. However, we all know what a gamble it can be when you go to a hotel and have to hope that the mattress is comfortable. Head on over The Albion Schoolhouse and you can rest assured that you will be able to catch some Z's on a FloBed.