Superior Support
Our pincore Talalay pillow is designed to provide you with optimum support and comfort while you sleep, it's supportive, breathable, renewable, and healthy.
The low profile option is ideal for stomach sleepers and back sleepers, providing comfort without giving you unpleasant neck pain. The breathable materials used allow you to sleep cool in the summer and warm in the winter.
Made with dynamically conforming latex, derived straight from the rubber tree, the pincore Talalay latex foam pillow provides all the comfort you need. What's more, it is designed to last, and keep form, so it'll bounce back time and time again.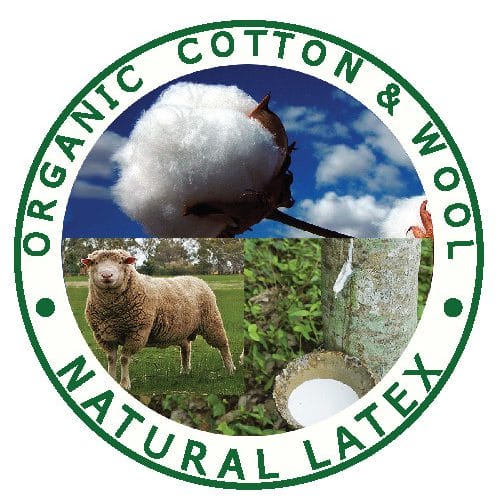 Dust Mite and Mildew Resistant
Whether you think you suffer from allergies or not, there is a good chance that certain allergens are making their way to your body and skin through the material on your pillows and bedsheets. And if that is happening, they could be causing you any number of problems from itchy eyes, head, and skin, to sinus problems and difficulty breathing. That's why we created a natural Talalay latex foam pillow that is inherently antimicrobial, and mildew and dust mite resistant. It will make sure that your bed is not a breeding ground for all of the unpleasant allergens that may otherwise thrive, and provide you with the opportunity to breathe easy while you sleep.
100% Natural Latex
Each natural latex pillow is made using the renowned Talalay process, developed by Joseph Talalay to create the perfect amount of firmness, comfort and overall "feel" to the latex. With a FloBeds' natural latex pillow, you can rest easy knowing that everything down to the latex filling is 100% natural and free of harmful chemicals.
From the Talalay latex pillow core to the organic cotton cover, to the eco-friendly packaging, "green" is how we have always done things because it is how it is best done.
Organic Cotton Cover
As mentioned, it's not enough to just have a natural core. That's why all of our latex foam pillows come with organic cotton covers. FloBeds is committed to making sure that everything in our pillows and products is free of harmful chemicals, right down to pesticides that are often used in the growing of cotton. While regular cotton is typically grown with the aid of many synthetic fertilizers, the organic cotton that we use is certified organic to give you not only the most comfortable sleep but peace of mind as well.
LOW PROFILE
Dimensions: 5″ deep
HIGH PROFILE
Dimensions: 7″ deep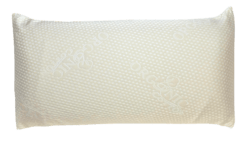 QUEEN
Dimensions: 19″ x 30″
KING
Dimensions: 19″ x 36″
Should I get low or high profile?

Most of it comes down to personal preference, but we would recommend low profile for stomach sleepers and high profile for side sleepers.
---
What is in the inside of the latex pillow?

The inside of the pillow consists of a 100% natural talalay latex pincore cushion.
---