Pain Relief – Sleep Better
A growing body of research shows that you sleep better on the right mattress — and that when you sleep better you feel better. If you have sleep related pain, FloBeds' vZone mattress can help you sleep and feel better mentally and physically. The vZone's revolutionary design supports the spine's natural curve; cushions painful pressure points; fits all body types and suits whether you sleep alone or share a bed.
New Mattress Equals
Better Health
The right new mattress provides significant health improvements:
70.8% in sleep comfort
62.0% in sleep quality
55.3% in back pain
50.7% in spine stiffness
"Sleep deprivation impacts us physically, which can negatively affect our coordination, agility, mood and energy," says Dr. Bert Jacobson, professor and head of the School of Educational Studies at Oklahoma State University (OSU). "Our research shows that sleeping better and longer leads to improvements in athletic performance, including faster sprint time, better endurance, lower heart rate, and even improved mood and higher levels of energy during a workout."
Oklahoma University study, comparing sleeping on a new mattress to sleeping on a mattress five years old or older.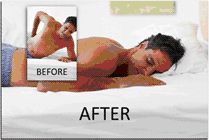 New Mattress Reduces Back, Neck and Shoulder Pain
81% of Americans report waking up with back, neck or shoulder pain; nearly half (46 percent) report they
frequently
(at least a few times a month) wake up with pain that limits their physical performance.  The good news is sleeping on a new mattress significantly improves sleep quality during the night and reduces physical pain during the day.  When sleeping on new a bedding system, study respondents reported significant improvements in:
lower back pain (62.8 percent)
shoulder pain (62.4 percent)
back stiffness (58.4 percent)
sleep quality (64.4 percent)
sleep comfort (69.6 percent)


The FloBeds vZone can target specific areas of pain and offer pressure relief. Providing just the right firmness from Head-to-Toe, this remarkable mattress has helped ease pain for thousands.
FloBeds'
vZone mattress
is a dream come true for people with sleep-related pain. The revolutionary design supports the spine's natural curve; cushions painful pressure points; fits all body types and works for people who sleep alone or share a bed.
Click here for help in
selecting your mattress.
FloBeds' vZone mattress is a dream come true for people with sleep-related pain. The revolutionary design supports the spine's natural curve; cushions painful pressure points; fits all body types and works for people who sleep alone or share a bed. Read answers to frequently asked pain related questions (FAQs) and see what people who sleep on a vZone mattress say about how much better they feel.
Q:            Should I sleep on a firm mattress if I have pain at night or I'm sore in the morning?
A:           
We now know "The firmer the mattress, the better" is a myth. Some people love a hard mattress and can comfortably sleep on a board, but most of us wake up feeling stiff, sore and tired. We ache because we need relief from pressure as well as good support, especially as we get older. We're still tired because hard mattresses hold our bodies in an unnatural position that makes it impossible to get the rest we need. When a bed company recommends a firm mattress it's because firm, medium and soft are their only options.  FloBeds invented the vZone mattress so people with pain have an alternative that works; the revolutionary design supports the spine's natural curve; cushions painful pressure points; fits all body types and suits people who sleep alone or share a bed.   This dream bed has a unique design that lets you customize its all-natural latex layers, cores and zones according to your needs and preferences.
Q:            How can a mattress be firm enough for proper support, soft enough to be comfortable and work for people of all shapes and sizes?
A:             The vZone manages pain in the neck, shoulders, back, hips and knees; satisfies individual preferences and suits all body types by combining firmness densities from top-to-bottom, head-to-toe and side-to-side.  It starts with a luxurious cotton cover, followed by 2 inches of convoluted Talalay Latex for the ultimate in all-over comfort. Below the comfort-layer are layers, cores and zones of latex that let you to micro-tune the density of every part of your mattress until it's perfect for the shape and issues of your body, customized to provide pressure point relief and lumbar support exactly where you need it most.
Q:            What if the mattress I design is right for me, but not for the person I sleep with?
A:             The vZone works for people who share their bed because both sides are customized to accommodate each  sleepers' firmness needs. Since no two of us are the same when it comes to what we need in a bed, the design lets each of you choose assorted densities for each zone and layer until you both have what works without either having to compromise.
Q:            How can I buy a mattress on the internet or over the phone? Don't I need to lay on it to know if the mattress is right for me?
A:             You're right, the only way to know if a mattress relieves your pain and supports you in the right places is to take the Goldilocks test…try it out for yourself.  But unlike Goldilocks, people need more than a few minutes to know if the bed is 'just right.'  They need to be able to customize their mattress, then they need to sleep on it for days or weeks to be certain the mattress is right for them. FloBeds knows how the mattress you sleep on is important. We also realize you can't be positive what firmness is going to be right for you. Not on the internet and certainly not on a showroom floor for twenty minutes (even if they would turn the lights down and leave the room). For this reason, it is better to get your mattress from FloBeds who offers a 100% guarantee and easy return policy.
Satisfaction Guaranteed, or your money back
. If we can't get you the mattress your body needs within 100 days (which 95% of our customers find we can), we'll refund your purchase price.
Q:            What if my pain issues go away or my needs change? Am I stuck with a mattress that was perfect once, but now isn't quite right?
A:             FloBeds understands life happens, bodies change and you need to protect your investment in a quality mattress. You may get thinner or gain weight; a painful spot may feel better or move to a different body part.  Since we know bodies change and get older, FloBeds believes the support and comfort of your bed should be changeable as well. To ensure your mattress is always 'just right' FloBeds unique design lets you purchase replacement cores rather than replacement beds for 20 years.
Testimonials
I just want to tell you that we think our bed is super.  I have bursitis in my shoulder and stiff hips. After sleeping in one of your beds for a few weeks, my shoulder is better and my hips don't ache nearly as much anymore. I am not saying I have been cured but the aches are sure a lot less than they were. I have not done anything different in exercise or treatment except to sleep on one of your beds. Our only problem now is when we sleep in another bed when traveling or visiting friends, we sure can tell the difference, yours is so much more comfortable. You will have to come up with a portable bed so we can always sleep in one of your beds. Just kidding. Or replace all beds with your beds. There's a challenge.
Reverend  Charles K.
I just wanted you to know that your latex FloBed is fabulous. For over seven years, I have suffered with chronic back pain. After sleeping on your FloBed, I noticed an improvement in my sleep habits and a reduction in my back pain. Thank you so much!
Penelope M.
I researched different sleeping systems for months and decided on a FloBeds mattress. I ordered by phone and the lady who helped me was personable, efficient and professional. As promised the mattress arrived the next day. The very first night we slept on it, we woke up with no stiffness, no hip pains and as an added plus, my husband has not snored! Or, maybe I sleep so much better, I don't hear him…. Everyone who has tried it out loves it… Thanks so much for the product and the excellent service.
Marina S.
Read more rave reviews from people enjoying pain relief because they sleep on a mattress from FloBeds.
New Mattress Reduces Back, Neck and Shoulder Pain  81% of Americans report waking up with back, neck or shoulder pain; nearly half (46 percent) report they frequently (at least a few times a month) wake up with pain that limits their physical performance.  The good news is that sleeping on a new mattress can significantly improve sleep quality during the night and reduce physical pain during the day.  When sleeping on new bedding systems, study respondents reported significant improvements in:
lower back pain (62.8 percent)
shoulder pain (62.4 percent)
back stiffness (58.4 percent)
sleep quality (64.4 percent)
sleep comfort (69.6 percent)