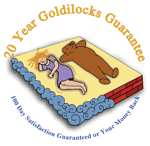 100 Day Money Back Guaranteee
Satisfaction Guaranteed, or your money back. If we can't get the Mattress your body needs within 100 days (which 95% of our customers find we can... see below), we will refund your purchase price. You only pay the shipping.


Goldilocks Guarantee
The comfort experts at FloBeds can help you determine what firmness is best for you, based on what you have been sleeping on and what you do and don't like about your old mattress. Our exclusive Mattress Selector helps you decide which model is right for you. If you get it wrong, we'll still make right. We know how important the mattress you sleep on is! Our unique design, with changeable firmness layers means you will most likely have the comfort your body needs. But if you don't, our component design allows us to promptly send just the component you need to achieve the comfort you deserve. For King, Queen and Standard Mattresses you can order up to two new firmness layers for just $75 each in the first 5 years (plus $20 each shipping). You don't have to send anything back. Over the entire 20 year life of your bed we will send you up to 4 new latex cores to help you get the support your body needs.( If you have a Twin size mattresses you may order 1 core at $75 and one more additional core.) And since we can ship it via UPS, it is easy for you to receive your new firmness.
With our vZone, designed for specific pressure point relief, we will send you any latex zone you need at no charge for the first 100 days. For the next 5 years, just $20. Nothing to return.
If you are not 100% satisfied with the firmness you select, we will help adjust your mattress for your body. So REST ASSURED. We guarantee your comfort. The bed that will always be "Just Right".
Here's how it works for beds purchased after November 2010:

| | | |
| --- | --- | --- |
| Year | Cost of first 2 Cores (1st if Twin Size) | Cost of Cores 3 and 4 (2nd if Twin size) |
| 1-5 | $75 ea | $150 ea |
| 6-10 | 25% of Core Price ea | 50% of Core Price ea |
| 11-15 | 50% of Core Price ea | 75% of Core Price ea |
| 16-20 | 75% of Core Price ea | 75% of Core Price ea |
For mattresses purchased before November 2010, we still offer a 25% discount on new cores.
FloBeds knows that your body will change. You may get thinner or you may gain weight. You may suffer from an injury or heal. But most of us will change... and the support your body needs may change too. FloBeds want to make sure your bed is always "Just Right".
For reference, our current Core Prices (Soft to XFirm) are:
Blended Queen…….$350
Blended King……….$400
Natural Queen………$399
Natural King………..$499
Here is a listing of all
current component prices
that would apply today.
Electrical Adjustable Base Purchasers:
Note, if you are buying an electric adjustable base, unlike a FloBeds Slat Foundation which ships via UPS, Adjustable beds ship via common carrier. In the interest of full disclosure, we want you to know the freight to return a Dual King Adjustable Bed will be in the $300-400 range. That combined with the original shipping means you are risking serious dollars. On the other hand, in the rare instance you find our mattress is not right, you may want to keep the base with can be used with any flexible mattress.