Bryna Turner grew up in Fort Bragg watching her dad, mom, and three siblings follow their various, varied, surprising dreams. She followed hers down equally divergent paths to find success as the twenty-seven-year-old author of a lauded New York play, Bull In A China Shop, heading for Chicago in May, and playing in Mendocino this summer. Lincoln Center of the Arts awarded the coveted Emerging Artists Award for 2018 to Bryna, one of only eleven artists in the country to earn the honor.
When my dad was growing up, he thought he wanted to be a lawyer like his father. And yet, he was always thinking up and executing business plans. He ran a paper route so well he quickly began subcontracting neighborhood kids to work for him. He started a backyard circus that cost a nickel for entrance, and then ran the grill himself, making a killing selling hotdogs. He was a young inventor too—he made a small device to electrocute his brothers who had their own weapons of choice—Andy's throwing knives and Scott's blow dart. By the time he was studying political science at Stanford University, he had no plans to go into business. But when he walked into a summer job at a waterbed store only to have the owner call him from Mexico offering to sell him the business at cost, Dave Turner knew he had to seize the opportunity.
Almost forty years later, my dad has taken the business through many iterations. It has transitioned from a waterbed store, to a wholesale mattress delivery operation, to what it is today: a business making high-end customizable latex mattresses. But no transition was as dramatic as the decision to move from the Bay Area to Fort Bragg, California. As the youngest of Dave and Anne Turner's four children, I've often wondered: why in the world did they do it?
"We wanted to raise our children in a community," Dave says. "Katie and Dewey were about to enter middle school, and we didn't want them going to schools with metal detectors," Anne says. The truth is: my dad was born in Fort Bragg, CA and he wanted his kids to have access to the same kind of small town childhood he enjoyed. And once back in Fort Bragg, my dad returned to one of his own childhood hobbies: inventing. Within a few years, he'd developed a patent for a hospital bed. Eager to get the idea out into the world, but reluctant to leave his family for long periods of time peddling the product on the road, he turned to a brand new technology in 1995: the internet.
"I thought I'd be able to get the attention of hospitals online, but instead, I got people from all over the world looking for a good mattress"—and so my dad got to work developing a mattress
perfect for individuals. Today, the Flobed is one of the most customizable mattresses on the market. And it's all made here in Fort Bragg, California, making it one of the only local manufacturers left on the coast.
My dad's business ethos is surprisingly simple: "everyone is built differently; your mattress should be too." But his attention to difference, his insistence on listening to what each person needs and not trying to solve individual problems with a one-size-fits-all solution—that's the key to his and my mother's parenting too. Or, at least, it's the only answer I can come with to explain how different each of us four kids have turned out to be.
Take my sister, Katie Turner-Carr, for example. Like our father, her entrepreneur spirit started young—with lemonade stands, and a keen sense of business. But it was our mother's footsteps she thought she'd follow in.
Anne Turner graduated with a degree in fine art from Saint Mary's College of Notre Dame. Her life plan was simple: "I was going to be a painter who lived alone. And drank a lot." Instead, shortly out of college, she met my father. She already had a boyfriend; he asked to be her friend. Three weeks later, he proposed. "I just have to break up with my boyfriend," she said. Thirty-eight years of marriage and four kids later, my mom has cycled through a few art forms. She worked with acrylic paints—until she had my brother, Dewey, who bit through the paint tubes. So she switched to weaving—until she had my brother, Patrick, who took a scissors to her loom. She had taken her first quilting class while pregnant with me, and so when we moved to Fort Bragg, California, she was thrilled to find the local quilting group. Now she's been a quilter for twenty-seven. She was the featured artist at the local quilt show in 2013, and has taken home dozens of ribbons through the years. People's Choice is her favorite category.
My sister is also an artist. She studied studio art at UC Santa Cruz, focusing on painting. Her paintings are large and abstract, filled with beautiful colors and geometric shapes. After college, Katie got a job at Santa Cruz Sock Shop and Shoe Company, where she quickly became one of the star employees. By twenty-five, she had already managed two sock stores, and had idea for her future: she would open her own sock store back in Fort
Bragg, California. My father was skeptical. Would a community as small as ours sustain such a business? He imagined the majority of her business would be tourists. She imagined the opposite: locals. "Everyone needs socks," she said. Why Fort Bragg? Her reasoning wasn't too different from my parents, back in 1992—she wanted start both her business and her family in a community. So in 2006, my sister returned home to start the next chapter of her life. Her first store was twelve by fourteen feet carved out of the front of the Flobeds building on Redwood Avenue. Because the store was so off the beaten path, all of her customers were locals—and the business flourished. By 2008, she was able to move to Laurel Street, right n the middle of downtown, where she remains today. And by 2009, she and her husband, Marshall Carr, had started their family.
And her art? My mom thinks Katie has merged the two passions: "It's a study in color, just walking into that store." Plus, she's busy working on two other masterpieces at the moment: her daughters, Rowan and Zoey, ages 8 and 6.
Our brother Dewey Turner never expected to be running the family business—partly because working for our father isn't easy. For reference, I was only employed at Flobeds for a month before I was fired for insubordination. Our brother Packie lasted only one summer. And Katie was never foolish enough to take the job. Dewey, however, worked his way up from shipping, to sales, to general manager. If you have a question about the daily operation of Flobeds, you will be directed to Dewey. He knows every moving piece in the complicated business, and keeps things running smoothly. But before he was our father's right hand and a family man in his own right—he and his wife Jamie have two wonderful daughters who he is quick to describe as the light of his life—
he was a rebellious high school basketball star who couldn't wait to get out of town.
Dewey's passion for basketball was so extreme, and his three point average so high, that he was once targeted for a nasty technical foul that scratched his cornea. He left the court bleeding from the eye, and my mother drove him to the eye doctor. He only had one question for the doctor: "Can I finish the game?" And he did—wearing an eye patch. His passion for the game is contagious—as an assistant coach to the varsity team, he keeps the players enthusiastic about what they're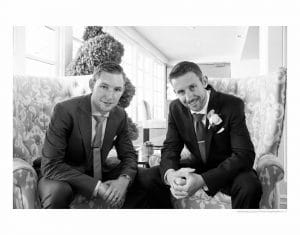 doing. But the first fire he lit was closer to home: our brother, Packie.
Packie recalls getting obsessed with basketball right when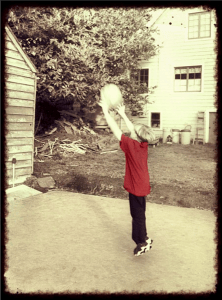 Dewey made the Varsity team. At the age of nine, he started studying Dewey's games. He practiced dribbling one hundred times with each hand, daily. He and Dewey convinced my dad to lay down cement in part of the backyard, making a half court for them to practice. Packie was outside nearly every day, practicing his three point shot. By high school, he was a two-time league MVP. He went to college on an athletic scholarship, and was on a team all four years.
So, we were all surprised when, after college, he announced he wanted to join the bed business. He had developed a mattress topper in one of his business classes, and he had a business model that looked pretty good. He knew the industry, and knew he could use a few of my father's suppliers. He and his wife, Bianca, moved back to Fort Bragg to start their company, Bed Bandits. But to support them while the business was starting, Packie also continued his constant side business: training kids in basketball.
It was this side business that eventually changed Packie's life. One of the kids he trained in the Bay Area went away to a basketball camp—and his skills blew away the other trainers. The next thing Packie knew, he was being headhunted by the camp. But he wouldn't be won so easily: "They wanted me to sign a non-disclosure, non-compete contract, and I said, look: you didn't invent the game of basketball. I won't sign that." Meanwhile, he continued trying to make his mattress topper business take off. That is, until he got the next call: to help train Steph Curry.

Now, Packie is a full-time professional basketball skills trainer. His clients range from five year-olds to NBA starters. He just opened up his own gym in the bay area, where he and his wife live now, and he sometimes travels with a few of his top clients. He's had to leave the mattress business to the professionals—Flobeds absorbed the topper business.
As for me, I might seem like the family outlier. I'm the only one of the four kids who hasn't yet moved home and attempted to run a business. In fact, after practically growing up inside the family business, I was very determined never to go into business for myself. So, I studied the exact opposite: theatre. There's nothing less profitable in the world than theatre, which almost always runs at a loss. And, because of how time-consuming it is, you're almost always losing money while you're doing it. Plus, it's horribly temporary. You're basically making a product that costs more than most people are willing to spend, only reaches a very limited group of people, and then disappears. It's the world's worst business plan—and one of the world's oldest art forms.
I didn't think I'd become a playwright. I thought maybe I'd be an actor. Then I realized that was a lifetime of waiting for someone else to say yes to you. So, I thought maybe I'd be a director. Then I realized I wasn't very interested in where everyone was standing. I even tried my hand at sound design, listening to the same two seconds of material hundreds of times before I finally gave in to the inevitable: I'm a writer. I've always been writing, privately, while acting publicly. Finally, I put the two together and discovered—I was horrible at it. Not good at all. But I really wanted to learn.
After graduating from college, I moved to New York City, where I lived in strangers' homes as a dog-sitter for two months before I found my own apartment and job. I wrote on my lunch breaks, and between phone calls at work. I wrote sort of desperately those first few months. Eventually I applied to graduate school, and started at Rutgers University in New Jersey—which I commuted to from Brooklyn, spending two hours on the train each way three days a week. I kept my part-time job in the city, and took on another part-time job as a TA.
When I graduated from Rutgers, I had hoped to be in a significantly better place than I had been when I enrolled. Instead, I was literally in the same place: same studio apartment, same underemployment. And then, within that same month, I got a row of rejection letters from various institutions I had applied to, and went through a horribly messy breakup. I sat down with a friend and swore that I would never write again, "At least no more comedies. And I'm never going to write about love again." My friend nodded. Then he asked me to remind him of that one story I was so obsessed with. By the end of the day, I had the first draft of Bull in a China Shop.
Six months later, I was walking down the street with another friend when I got a phone call. It was the artistic director of LCT3, the emerging artist wing of Lincoln Center. He said, "I want to produce your play, what do you think about that?" I said, "I think you're crazy." After the play's success, my mother called me, laughing. "You're a business now," she said.
For years, my dad has been signing off his Flobeds emails with a joke advisory statement about his product: "your dreams may vary." But it's come to mean a lot more than that to us. Your dreams may vary—not only from each other's but also over time. "Sometimes the dream changes," my mother says looking back over the last nearly forty years she's spent with my father, looking at the life they've managed to build together by adapting, changing. Where you are, what you're doing, what the goals are—it can all change. At Flobeds, they have a warrantee called the Goldilocks Guarantee: "Life happens; people change. Your mattress can change with you." Paying attention, making the right changes for yourself, your family, and your future—that's what we're all about in business and in life.
It's the adaptability instinct that my dad brought to city council when he joined in 2002, right as the local lumber mill, the city's largest employer, was shutting its doors. He ran with the slogan: "Focus on the Future," and was already imagining a time when
the trestle over Pudding Creek would be useable again, when the coast along the mill site would be cleaned and opened for public use, and when we might even have our own local marine science center. After 15 years on council, those dreams have all become realities. Each time I come home, I walk the newly opened South Coast trail, remembering how difficult the process was, how far-fetched it seemed at times. And as the path turns and leads to the Noyo Center, my dad always speeds up, taking me to the container that houses the blue whale bones, excitedly talking about the day they'll be displayed for all to see. All these years later, and he's still chasing the whale on the horizon—just like all of us.
But remember: your dreams may vary.