When You Have To Share Your Bed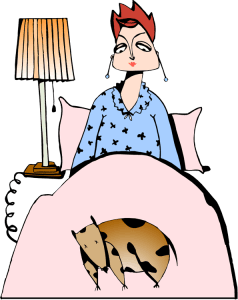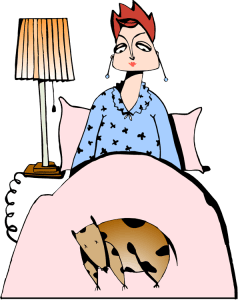 Where do you stand on the issue of sleeping with your dog or cat?
Some people think dogs shouldn't be allowed on the bed because it can cause behavior issues. But really, is there anything wrong with sharing your FloBed with your cat or dog?
How To Be Your Dog's Best Friend, the dog obedience manual by the Monks of New Skete, advises letting your dog sleep on the floor in your bedroom, but never in your bed.
Jenna Stregowski's article  in About.com doesn't agree, "In general, letting your dog on the furniture is not going to cause problems – behavioral or otherwise. Dogs love to curl up on the sofa, the bed, and anywhere else that's nice and soft. They also like to spend time in their humans' favorite spots".
An entertaining article in Slate Magazine by Emily Yoffee, tells the story of how her cats lost their spot on the bed to her dog…
My beagle, Sasha, got the opportunity to settle in for the night when my husband declared he was evicting from the bed our two current cats, all 36 pounds of them. He explained, "In the middle of the night they run up and down my body, then they sit on my chest and crush it." Since I am a light sleeper, I told my husband it was hard to believe his description of our cats' ramblings. Ever the considerate wife, I suggested he might be having nocturnal psychotic episodes.
"Do I have to install a video camera?" he said. "They march up and down my body like they're on a picket line, then they sit on me. They're driving me crazy."
A few nights later, cats still in the bed, I got up at 4 a.m. to go to the bathroom. When I returned, there was Biscuit, sitting in the middle of my sleeping husband's chest, peering into his open mouth as if about to perform periodontal surgery. Goldie was climbing up my husband's legs. I was shaken. It was painful, but I agreed the next morning to banish the cats to the basement at night.
Where do you stand? Do you share your bed with an animal?
Share your opinions, experience and advice – even photos if you have them!