Starting the Day Right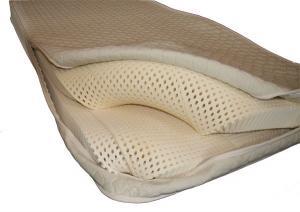 It always seemed like my parents had a better mattress than me. Well, FloBed parents do not make the same mistake. Here is some great news: we sell a version of your mattress that is perfect for your kids!
The Student Mattress features two layers of Talalay Latex to make a 6″ mattress. We use our same Euro Stretch knit organic cotton that we use in all our natural latex mattresses. For students we quilted needled wool on all sides to provide a cool Tite-Top surface that breathes and wicks away moisture. And since wool is naturally fire resistant, we don't have to add chemicals or artificial barriers to meet the Federal Flame Resistant Standard. We use blems, minor defects or laminated cores to create the highly affordable Student Mattress. Per special request, we can make a student mattress out of first quality cores for $100 more.
No more excuses. Nothing but bright-eyed and bushy-tailed smiling students every morning. Ok, maybe we won't guarantee that, but you know we can guarantee the rest you & your students need!