Testing a $50,000 Mattress
Savoir Beds, a 105-year-old luxury British company, opened its first store in New York last weekend. A cynic might wonder if the No. 1, the $50,000 mattress they were touting, was a marketing ploy, a question we put to Roger Ericson, the company's London-based creative director.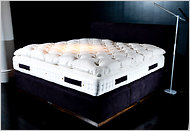 "No, no, no," Mr. Ericson said, and, of course, this was good enough for us.
Has Savoir, which introduced the bed in Britain a year and a half ago, ever sold it at full retail?
"Oh, yeah, absolutely," Mr. Ericson said. "The Harrods shop, which opened up in June, is selling about two a month."
What makes it worth $50,000?
"It's a true luxury product," Mr. Ericson said. "Priced on two things: labor and what goes into it — more fabric, more horsehair, more springs, more cashmere. It's something you have to experience."
It may not be the first $50,000 mattress to flounce into New York, but it is the first I have had the chance to spend the night on, so when the manufacturers invited me, I was there. When I arrived at the store in SoHo one evening last week, a few days before the official opening, there was a bodyguard at the door, built somewhat like a mattress himself. Inside, bottles of Taittinger and Sancerre were chilling, and Marvin Gaye was crooning seductively, followed by Carla Bruni. Nothing puts you in the mood for high-priced fun like Carla Bruni.
The room was filled with naked mattresses, save for two at the end — one of them the No. 1, above, decked out in Sferra sheets, a Hefel silk duvet, a throw, slippers and a Kiki de Montparnasse sleep mask. It looked ravishing.
But one does not just throw oneself at a $50,000 bed. The sales staff — in this case, Eric Svensson, the director of sales for the United States, and the Savoir publicist — must warm one up. They spoke of Savoir's four lines of mattresses, which begin at $5,895; they displayed a cross-section of the 8-inch star-lashed box springs. There was a good deal of enforced bed hopping and one had to hear about the extra-special traits of the No. 1 — the extra-deep springs, the oak base, its cashmere innards.
"Pounds of cashmere," Mr. Svensson said. "It all boils down to something very simple: to create an environment in the bed where you move as little as possible. When you don't move, you can disconnect your brain."
The upside of hearing about how beds are made is that it makes you very tired. I shooed the sales force out and headed for the No. 1.
The first problem: extra-deep springs make for a very high bed, and to get in I had to make a running hop. The sheets were silky, divine; but the bed was much too firm and so deeply tufted that it felt — dare I use the word? — l-u-m-p-y. And after scooching up toward the headboard, where I like to hunker in at night for maximum safety, my head felt lower than my body.
I moved around, trying to find the money spot — the $50,000 spot, as it were. No good. Pressure points (elbows, hips, toes) sank into deeply tufted spots with such specificity, it was as if they were sleeping in different neighborhoods.
After an hour, I was still awake, but it seemed unfair to blame this on the mattress. Maybe I was too busy trying to judge the quality of sleep to sleep. I could take a pill, I thought, but that would dull the keenness of my reportorial senses.
I dragged my comforter and pillow to the No. 3 bed a few feet way, which I remembered liking and recalled being at least $30,000 cheaper. It was deeply tufted too, but it welcomed me, reaching up to support me. This bed is delicious, I thought. I love this bed. Maybe I will sleep here.
No, that's wrong, I reminded myself, I am here for the $50,000 experience. How will I experience $50,000 dreams?
I dragged my quilt back to the first bed, hauled myself up on it and tried again. A half-hour later, I no longer doubted myself; the bed was lumpy. But I had an idea: I would go back to the No. 3, get sleepy and then return to Numero Uno. It worked: 30 minutes later, half asleep, I hauled myself back and finally fell asleep.
I woke up shortly before 7 a.m., from a two-part dream involving a street performer pretending to be a celebrity and fruit juice spilled on a large bed with sheets just like the ones I was sleeping on. These were not $50,000 dreams. And while the mattress no longer seemed pitted, I felt as if my body had sunk into a hole. I hadn't slept this badly on an assignment since I spent the night on a tuna boat. I was exhausted.
I headed back to my apartment in the Village. The sky was blue and it was a beautiful morning. I caught myself humming an upbeat song, then realized what my unconscious had sent me: "Last night, I couldn't get to sleep at all, all, all."
Apparently, the $50,000 bed didn't work for me at all: my brain never could disconnect from my body.
Savoir Beds, 28 Wooster (Grand Street), (212) 226-3640 or savoirbeds.co.uk.
editors note: it turns out you can:
1) get a 100% Talalay Latex Mattress surrounded by organic cotton and wool.
2) have it customized for you and your partner both.
3) get 100 nights to test rest it.
4) AND save $47,000