FloBeds vs. Other Memory Foam Beds
Compare to Brand X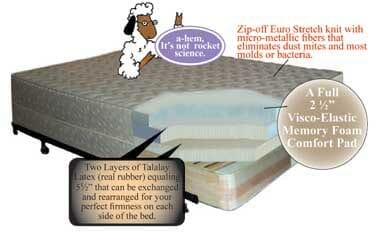 Latex vs Memory Foam Mattresses
Posted in Latex Mattress by Dave Turner on August 9, 2013, @ 8:41 am
Learn more about the Flobeds difference when it comes to our beds that are 100% Talalay Latex foam that supports your core, has a great cover and has a longer guarantee.

In order to understand latex vs memory foam mattresses, we have made a comparison chart so you can see the differences for yourself!

FloBeds
Others
100% Natural Talalay Latex
Polyurethane and Memory Foam
Cover
Cover
Euro Knit Stretch MicroCare European stretch knit organic cotton quilted to organic wool. Naturally anti-bacterial and anti-fungal.
FloBeds FloCare European Knit mattress cover further enhances health and comfort with a soft supple feel that does not interfere with the comfort and contouring of the FloBeds mattress. FloBeds quilts the FloCare knit to one inch of organic wool. That's all. The whole cover unzips for cleaning and hanging in the sun.
Health and comfort: revolutionary, yet natural. The FloBeds way.
Terry Cover with Air-Permeable Liquid Barrier

(Air-Permeable does not mean it lets a lot of air movement around your body… just that a some air will get through!)FloBeds quilts the FloCare knit to one inch of organic wool. That's all. The whole cover unzips for cleaning and hanging in the sun.

Pressure Relief Layer
Pressure Relief Layer
FloBeds uses 2″ layer of 16 ILD Convoluted natural Talalay latex. We think convoluted latex is the best pressure relieving surface available — the egg crate design is used for pressure relief in hospitals. Talalay latex will last for over 10 years without noticeable wear, unlike memory foam made from polyurethane. FloBeds has found convoluted Talalay to the the best comfort layer for mattress construction: We put it in every FloBed.
3 " Layer of Viscoelastic material made from polyurethane.
Support Core
Support Core
FloBeds uses 100% Talalay Latex Core layers (6″ to 9″ total core thickness). Talalay is the most conforming latex (foam rubber) available. Each side of your FloBed latex mattress will be personally engineered to support your back the way it should be supported. With our 13 possible firmnesses and our 100 Night Money Back Firmness Guaranteed Test Rest, you know we will get the right firmness for you.

Bonded Substrate
(Others use a 5″-8″ block of inexpensive polyurethane. This is the product that has caused innerspring mattresses to take a set in just a couple of years).

Memory Foam Bed manufacturers have a "one firmness fits all" philosophy.


Foundation
Foundation
FloBeds Slat Foundations are constructed of solid 3/4″ pine sides and 3/4 inch clear vertical grain fir slats to provide maximum air circulation for your mattress. True level surface for lasting performance and support. Dual foundations work on standard heavy-duty metal bed frame, and true 'do not disturb' sleep.
Steel/Spring Under-structure.
Not much there, take a look for yourself.
Rocket Science
Rocket Science
Ahem… sleep is really not rocket science, just getting the right support, and the ability to adjust your support as your body chagnes. (Although we sure like NASA's contribution to pressure relief in space;)
| | |
| --- | --- |
| FloBeds Goldilocks Guarantee | Same Old Mattress Warranty |
| Change your firmness anytime for the 20-year life of your new Talalay mattress. Life happens, change is inevitable… make sure your latex mattress can change with you! Goldilocks was right… this bed is Just Right | Just try and get warranty service after5 years from typical mattress companies, on line or brick & mortar. |
Unique Design for Custom Comfort
Our mattresses are as unique as the people who sleep in them. Our mattresses have multiple layers of natural latex cores to create personalized firmness for each side of the mattress. We have five different firmness levels, and only use natural Talalay latex!
When you are debating whether to go latex foam or memory foam, Flobeds mattresses are easy to customize to exactly what you need. Talalay latex means no polyurethane foam, Dunlop latex and is spring free. Our mattresses are natural and organic while giving you the best sleep that you deserve!

As you can see from our latex vs memory foam mattress chart comparison, Flobeds provides the best service and materials in your mattress.