Know the basics before
you buy your next mattress
March 15, 2013|By Wendy Donahue, Tribune Newspapers
People may spend a third of their lives in bed, but they're not giving it a lot of thought at the time.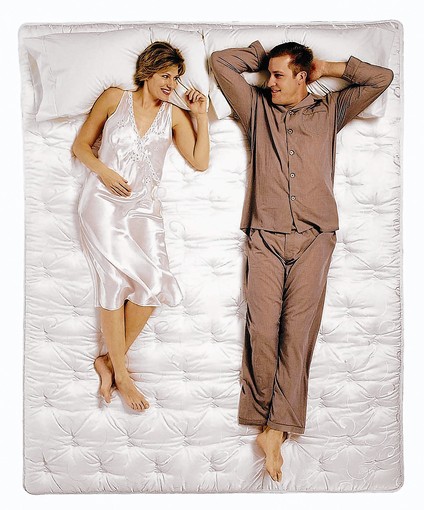 If you want to get in beachbody shape for spring break, don't spare a sagging mattress, especially if you're losing sleep over it.
The connection?
Recent University of Chicago research concluded that without adequate sleep, fat cells don't properly metabolize insulin, which is key for weight management. Other studies have shown that sleep deprivation reduces the ability to learn , focus and retain information, while increasing the tendency to react emotionally to perceived threats rather than problem-solve logically.
Though people spend up to a third of their lives in bed — a requisite stat in any mattress store chat — the majority of the population thinks little about what they're sleeping on, said Dr. Neil Stanley, a "sleep evangelist" who British luxury bed company Vi-Spring sends on speaking engagements.
"Sleep is more important than diet or exercise for overall health, yet we're obsessed with diet and exercise," Stanley said during a visit for Chicago Luxury Beds. "You are going to spend more time in your bed than you will anywhere else, and yet most people do not see the bed as an important purchase."
Before you upgrade yours, note that online consumer ratings debunk conventional wisdom about the most comfortable mattresses.
The independent consumer site Sleep Like the Dead compiled more than 16,000 reviews on a range of mattress types and found that inner-spring or coil mattresses, what most of us grew up on, rated the lowest in satisfaction.
Here is a snapshot — not every detail — of mattress types, from greatest to lowest owner satisfaction. (Water beds rate third in satisfaction but are the lowest-selling type, so we omitted them from this report.)
It's important to do your own bed hopping to find what works for you, urges Nick Robinson, who started sleeplikethedead.com after searching for a mattress to ease his chronic insomnia. Because preference is passionately subjective, he won't say what he sleeps on.
Also, note that comparison shopping can be confusing because manufacturers often market mattresses under different names for different retailers, sometimes with slight changes in construction.
Memory foam
Types: Low, medium and high density.
Pros: Conforms to body's contours. Pressure less, weightless feel. Motion isolation. "The foam is energy absorbing, and a person can get up without disturbing their partner," Robinson said.
Cons: Off-gassing: About 15 percent of owners reported significant odor at initial purchase. Heat retention, especially with higher-density foam. Petroleum-based foam is a turnoff for some. (Some brands integrate plant-based foam.)
Owner satisfaction: 81 percent.
Example: Tempur-Pedic and Serta iComfort. "There are many lesser-known brands such as Bed in a Box, Bodipedic and Spa Sensations," Robinson adds. "These lesser-known brands tend to be sold online."
Latex
Types: Synthetic, natural or blended latex, with foam created using either the Dunlop or Talalay process. Some are all latex, top to bottom; others that call themselves latex are only partially latex, with synthetic foam.
Pros: All natural latex mattresses get highest marks, especially with the environmentally conscious. Those with at least upper layers in Talalay latex rate softer. Durability and motion isolation tend to be above average.
Cons: Heat retention. Off-gassing for blended types. Heaviness. Prices above average.
Owner satisfaction: 80 percent
Example: No brands or models dominate, Robinson said, but include certain Ikea models, Plushbeds,


FloBeds, Sleep EZ, Simmons Natural Care and others.
Air
Types: Permanent and temporary use.
Pros: Air bladders within a mattress encasement allow adjustable firmness, often independent for each side of bed. Lightweight. "They tend to offer good contouring support, which can help with back pain," Robinson said.
Cons: Mechanical, which results in below-average reliability. Below-average warranty coverage. "And noise from the air pumps is a complaint for about 10 percent of owners," Robinson said.
Owner satisfaction: 78 percent.
Example: Sleep Number.
Innerspring
Types: Various networks of metal springs or coils for support. "An increasing number are using a significant amount of memory foam, making them, in effect, innerspring/memory foam hybrids," Robinson said.
Pros: Familiarity. Widely available in showrooms. Many varieties of firmness.
Owner satisfaction: 62 percent.
Example: Sealy Posturepedic, Simmons Beautyrest, Serta Perfect Sleeper. At luxury tier, Hastens, Vi-Spring, Duxiana.