A Wire Coiled…
Not the same as pure natural Talalay Latex.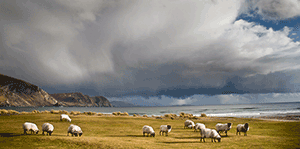 It rained again today.  What a blessing.
We have had 3 years of very dry weather.  The thought of mandatory water rationing is not pleasant, but was on the horizon before these last two storms.
I hope the rain continues.
The sheep need it too!
Spring lambs are frolicking.  They will be making future FloBeds wool and live to an old age.  Are sheep-years like dog-years?   One thing is certain: our customers don't count sheep!
Maybe you should consider a natural latex mattress made with 100% pure milk of the rubber tree foam rubber cores surrounded by organic cotton and organic wool (the wool is our way of making a fire-safe mattress that meets US Open Flame Mattress Standards).  No more counting sheep… just enjoy the great qualities of latex and wool in a chemical free bed of your dreams!