Naturally, FloBeds and Coyuchi form a business relationship, organically.
We are excited to be adding the expanded line of our neighbor here on the coast, Coyuchi Organic Linens.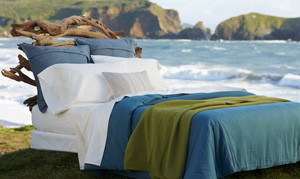 Coyuchi Organics is just 140 miles down the Pacific Coast from Fort Bragg, where all three of our facilities are. We wish we came up with their line: "Everything we create is designed to comfort and rejuvenate –- body, mind and spirit -– to help you turn your home into a sanctuary."
Be sure to check out these great linens… including the new soft and cozy Jersey knits!
When you start with a FloBed featuring Organic Cotton, Organic Wool, Natural Latex, Certified Sustainably Harvested Pine and you top it with Coyuchi's fine organic linens… you know your home will be your sanctuary.