FloBed Covers
You can't judge a mattress by its cover…
but it's a good place to start!
FloBeds cares what you surround yourself in. That's why we use the best materials we can procure in our Latex Mattress Line.
Organic Cotton Euro Knit quilted to one inch Pure Wool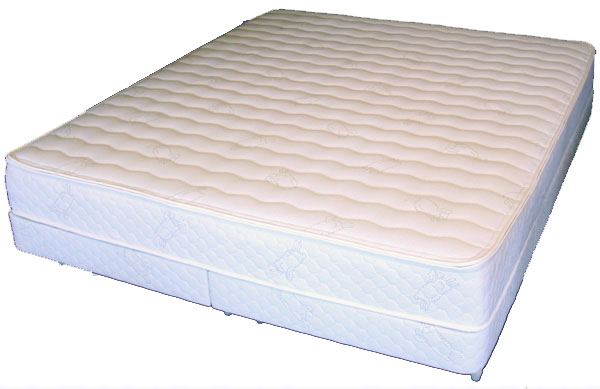 Cotton Euro Knit quilted to Wool on all 6 sides… Top, Bottom and 4 sides
Pure Wool is quilted into every FloBeds Latex Mattress.
You can't see it, but you will appreciate it.
A cover should be durable, breathable and of quality fibers. Our covers are made of Organic Cotton European Stretch Knits quilted to Organic Natural Wool, a bedding wonder. Wool breathes well and on a hot night and will wick away a third its weight in moisture. Dust mites don't like wool. Wool springs back to its natural shape. We don't use any poly-foam in our covers because it breaks down in 4 or 5 years, it sucks in dust and moisture, and it doesn't breath. We don't use a pillow-top in our beds.  The cover should not interfere with the pressure relief and core support of the components beneath.
What to look for in your mattress cover:
Organic Cotton surface.
Stretch knit to allow mattress to conform to your body
Top of cover should not be pulled tight, creating "hamock effect"
Natural Wool to provide air circulation
Natural Wool to wick away moisture (we all throw off water water when we sleep)
Chemical Free (most companies use chemicals to meet Federal Fire standards… FloBeds was the first to use only wool!)
Quality… Your cover should fit snug and be well tailored