Where Can I Buy a FloBed?
Q:
I live in Geneseo, IL and was wondering where I can buy one of  your beds that is closer to where I live?
Dewey Answers:

Other than here in Fort Bragg on the Northern Coast of California, we sell all of our beds direct.  We offer a 90 night Test Rest money back guarantee so you can evaluate your FloBeds Mattress in the comfort and privacy of your home.  We feel this is better than trying one for 15 minutes in a showroom, where you really can't know how your body will feel in the morning.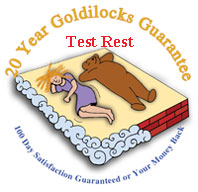 A few years ago we though about selling through dealers. But we quickly realized an ordinary mattress store can't offer the level of customer service that you need to guarantee a good night's sleep. Unlike FloBeds – who makes your mattress to your specifications – dealers don't like giving money-back guarantees, aren't prepared to carry the inventory needed to offer 13 different firmnesses, and don't give the kind of service necessary to fine-tune firmnesses by offering different latex cores until your bed is just right.
So we decided the best thing for our customers is to sell through our web site, with as much phone time as you want before, during and after the sale.
By the way… if  you're wondering about our trustworthiness, read about our 8th year of  zero complaints! We would have more, but BBB stopped sending out the letters!
(That means we will give your money back before we let you be unhappy:)