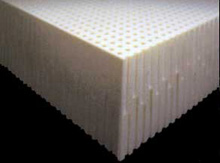 Those of you who have a FloBeds mattress know what the components of the sleep system feel like. You've run your hand over the cover of organic cotton quilted to organic EcoWool. You know the feel of 100% natural or blended Talalay latex in various levels of firmness, and you're familiar with the touch of the convolute (egg-crate) topper.
It occurred to us that people considering a FloBed mattress might like to see and feel the components too. If you're on-the-fence and want to see & feel it before you buy, why not ask for samples? Just give us a call, 1(800)FloBeds  – 356-2337, Mon-Fri 8am-5pm, Satuday 10am-5pm, Pacific Time.  Or send an email to info@flobeds.com with your phone number and we'll call you!
We'll find out if you want samples of all natural or blended latex, or both, and where to send them.  The sample set is free, except for a $7 fully-refundable shipping fee (we'll subtract $7 from the price of your bed).  So while we're talking, we'll get your credit card information too. A few days later you'll receive swatches of the cover, the convolute topper, and latex pads in various levels of firmness and you'll be good to go.