Zero Complaints and An A+ Rating
In our 9th Year of Zero Complaints (2007) the Bureau went to a letter grade…
Since then we have always received an A+ !
(It turnes out applying the Golden Rule can be measured… for 19 years now:)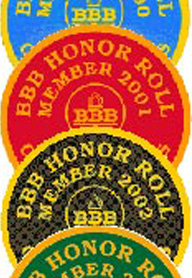 To see our current standing:

This doesn't mean that we take care of complaints…
It means our customers don't even have cause to complain to the Bureau…
We treat our customers like we would like to be treated! It means when we say Satisfaction Guaranteed … we mean it.
Due to national bureau trademark policy,
we have been asked to remove from the internet copies of letters from the bureau congratulating FloBeds. If you would like a copy, please call and we can fax or mail to you.
Ask for our 2007 Letter Congratulating FloBeds on 2006 Complaint Free Year, or the 2006, 2005, 2004, 2003, 2002, 2001, 2000 or 1999. At FloBeds we are crazy to make you happy! After all, why wouldn't we be? We ask you to try our bed. We give you a money-back guarantee. If you have an issue… of course we are going to take care of you. FloBeds wants you to sleep happy… and we don't want to give your money back. We are small enough to care about every sale. We will take care of you. All of us here would  like to think that we would do it anyway, but we have set it up for a win-win. If you are happy, we are happy. Sweet dreams! Here is an example of what we would send you:

2001 BBB Honor Roll
David R. Turner, Vice President
FloBeds
234 E. Redwood Ave
Fort Bragg, CA  95437
Dear Mr Turner:
The Better Business Bureau serving Alameda, San Francisco, Contra Costa, Marin, Napa, Solano, Lake, Sonoma, Mendocino, Trinity, Humboldt, and Del Norte Counties processed 13,032 complaints in 2001.
OUT OF ALL THOSE DISPUTES, YOUR COMPANY RECEIVED NONE.
We offer our congratulations to you for accomplishing a year of outstanding customer service.  The BBB commends your complaint free status and realizes that this milestone deserves to be recognized.  We are committed to businesses such as yours, and are happy to announce you've earned the BBB's "Honor Roll" decal.  We encourage you to display it so your customers can see your achievement!
On-going independent surveys consistently reveal 3 out of 4 consumers prefer to do business with a Better Business Bureau member company.  Imagine your potential customer's confidence in doing business with a complaint free BBB member!  Be sure to let your customers know!
Congratulations on your success!
Sincerely,
D, Patrick Wallace
President
Serving the Northern California Counties of:
Alameda, San Francisco, Contra Costa, Marin, Napa, Solano, Lake, Sonoma, Mendocino, Trinity, Humboldt, and Del Norte
Membership Office
114 Sansome Street, Suite 1108 – San Francisco, CA  94104
(800)600-1511