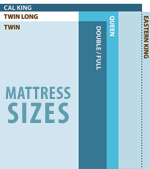 All our
mattress covers
feature 100% Cotton Euro Stretch Knit quilted to 1 inch of 100% Pure Wool on top and needled wool quilted in the sides and bottom. Because wool is naturally fire-resistant, our mattress covers meet Federal Flammability standards naturally (without chemical or artificial additives).
Under our luxurious cover you'll first experience 2-1/2 inches of pure "cush." Sensus Memory Foam provides ultimate pressure relief and comfort without diminishing the support qualities of the talalay latex cores.
Our original personally crafted mattress, the
Memory Select
features a
2 layer
latex core with a choice of 13 personal firmness variations FOR EACH SLEEPER.
In a FloBed, there is no more comfort compromise between sleep partners! Each side is individually constructed to accommodate each sleepers firmness needs.
With our
Memory Deluxe
, we did our Select one better by adding an additional core layer of premium Natural Talalay latex. Our
3-layer-core
Deluxe provides an extra layer of comfort, with more firmness personalization and flexibility to accommodate a wider range of body types, from small to extra large.
Our
Memory vZone
features a personally "zoned" latex upper core to provide pressure point relief for hips and shoulders as well as additional lumbar support. The
2-core + vZone upper core
is the perfect mattress for
side & back sleepers
.

$1,779.00

$2,299.00

$2,599.00