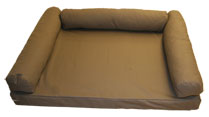 Medium Bed with Removable Cushions. Bed is solid 3 inch layer of Natural Latex. Cushions are shredded Natural Latex and attach with 2 inch wide sturdy velcro.
Available in 3 standard sizes (24x36, 30x40, 36x48) and, of course, by special request.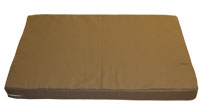 Soft, Medium, Firm or Extra Firm available. Make sure your friend has the firmness that is "Just Right".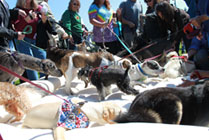 At the Ugly Dog Contest during Paul Bunyan Days 2011, 25 tired dogs created a huge Dog-Pile on the "Worlds Largest Dog Bed".
A little dog in a big bed!