Std/Double 54"x 75" Our
Memory vZone
features a personally "zoned" latex upper core to provide pressure point relief for hips and shoulders as well as additional lumbar support. The
2-core + vZone upper core
is the perfect mattress for
side & back sleepers
.

All our mattress covers feature 100% Organic Cotton Euro Stretch Knit quilted to 1 inch of 100% Pure
Organic Wool
on top and needled wool quilted in the sides and bottom. Because wool is naturally fire-resistant, our mattress covers meet Federal Flammability standards naturally (without chemical or artificial additives).

2 1/2 inch Sensus visco elastic Memory Foam topper provides maximum pressure relief and comfort without diminishing support qualities of natural latex cores.
Choose Original or Natural in Cart.

Natural - 100% Natural Latex
Cover
1"
Comfort Layer
2 Inch Sensus Memory Foam
vZoneLayer
3 Inch
Core Layers (2)
Finished Size
11.75" x 54" x 75"
Weight
225
Shipping
(with foundation)
ships via UPS in (4) 16x29x33 and (1)16x21x26 cartons
Blended - 30% Natural / 70% Synthetic
Cover
1 inch
Comfort Layer
2 Inch Sensus Memory Foam
vZoneLayer
Core Layers (2)
Finished Size
11.75 x 54" x 75"
Weight
225
Shipping
(with foundation)"
ships via UPS in (4) 16x29x33 and (1)16x21x26 cartons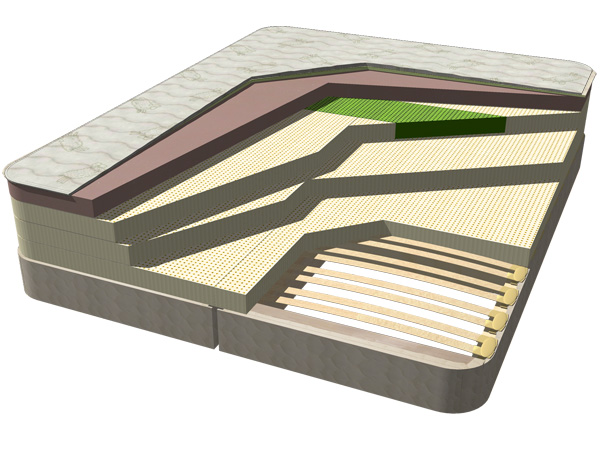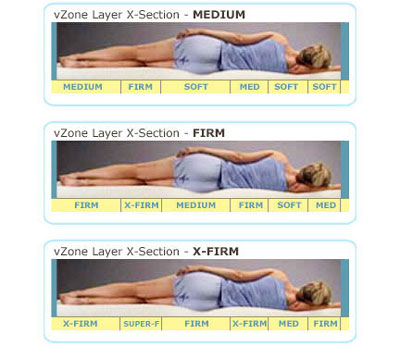 Your vZone firmnesses are based on the core firmness directly below it,
with the lumbar zone echoing up the firmness.
Image Gallery - click image to enlarge
Reviews
We love our bed...it is like sleeping on a cloud but with support!
I was hesitant to order a bed off of the internet but the design of the memory foam mattress sounded like what we were looking for. I have to say that we have a Tempurpedic bed in our Illinois residence and for us it is too firm (there is only one firmness) and I had to wait 21 working days ( over 1 month elapsed time) to get it. Also with Tempurpedic I had to call at least six times to find out the status of my order...we weren't about to go through that again! I really appreciate flo beds quicker delivery and customer service via EMail...and again I love this bed...I didn't have to get used to it like I did with the Tempurpedic!
Christine T.
Fort Myers Beach, FL

---

We have had our FloBed 3 years now and I have to say, it is the best $3,000 I ever spent! I got the top-of-the-line zone bed with the memory foam topper since I have fibromyalgia. Before I could not stay in bed past 4am. Now, I can sleep till 9am if my kids will let me. My side was a little too soft, so I switched a layer with my husband and both of us think it is just right. I researched all types of beds before settling on this one and I have not been disappointed. I truly recommend this bed to anyone and everyone.
Rhonda in Louisiana

---

We bought our FloBed 9 months ago+/-. It was, other than our two Shelties, the smartest purchase we have made in quite some time. Customer service was Outstanding and hassle free. We ordered three additional latex pads to get the firmness we thought we wanted, going hard than softer, than realizing what we had originally was what was the most comfortable. The whole time without any problems what so ever. I love the fact that the mattress cover can be spot-washed. The top cover comes off and if soiled can be cleaned. I never had a conventional mattress I could say that about. We bought the King with the euro slats. I found it hard to believe that the set could be delivered by UPS in 7 boxes but it was. And it was not at all difficult to assemble. Months ago we disposed of the boxes, but we have been negligent in not getting a positive reference your way. After all, you have made our nights wonderful, and this will be the last mattress we should ever need to buy again.
Steve & Annette Glary
Shawnee, KS


---

To Whom It May Concern:
I have researched the different "sleeping systems" for months and decided on the European memory foam matress. I ordered the mattress by phone, and the lady who helped me was personable and efficient and professional. As promised the mattress arrived the next day.
The very first night we slept on it, we woke up with no stiffness, no hip pains, and an added plus, my husband has not snored! Or, maybe I sleep so much better, I don't hear him....
Everyone who has tried it out loves it...
Thanks so much for the product and the excellent service.
Marina S.

---

I am one of your happy customers, with fibromyalgia. In the Forums on About.com under fibromyalgia and chronic fatigue they often question about mattresses, I tell them about flobeds. You should put an ad on the site.

Donna M

---