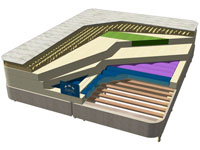 FloBeds AirCore Mattresses

FloBeds AirCore mattresses use Talatech Latex or Memory Foam where others use cheaper poly-foams.
Each side of your new FloBeds Mattress has unlimited firmness to choose from.
Based on our flagship FloBed Latex Mattress, the FloBed AirCore uses the air to align your spine, and premium Talalay Latex for cushioning and rails. There is NO POLYURETAHANE FOAM in our AirCore sleep system.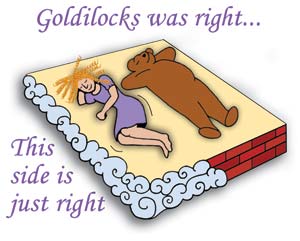 Furthermore, our unique design allows substitution of a solid talalay latex core for one side or both. We know we can make our bed "Just Right", or we'll give your money back.
Air Beds
FloCare flotation bed systems are designed for comfort…
Engineered for support.

With advanced support technology on the inside...



Convoluted Talalay Latex Comfort Pad for pressure relief.

24 Chambered AirCore provides precise spinal alignment.

Natural elements…
Constantly changing…
Seeking perfect balance…
FloBed air systems can be adjusted to give your body the support it needs.
Our unique 24 chambered air cells provide maximum adjustability and flexibility.
Three zone system allows ability to raise or lower mid-body, achieving precise spinal alignment.
With 4-1/2 to 7-1/2 inches of talalay latex above the air core,
FloBeds' air flotation mattresses effortlessly cradle and caress every curve.
Sleep-disruptive pressure points are eliminated, allowing the body to rest naturally…in deep, soothing comfort.

A conventional mattress creates pressure points
on those areas of greatest weight concentration.
A FloCare adjustable air mattress conforms to the body's exact shape, providing total support, correct spinal alignment and eliminates uncomfortable pressure points.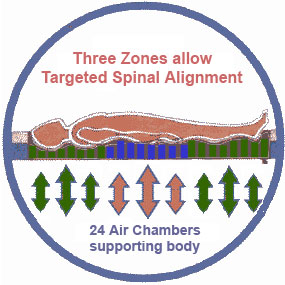 Advanced technology…
Therapeutic support…
FloBeds AirCore Bed

Organic Cotton Euro Knit quilted to 100% Pure Organic Wool provides luxurious comfort. Cover unzips completely for easy fluffing and freshening. Natural qualities of cotton & wool provide cool summer sleep and warm winter nights. Wool and fiber do not compress to create body impressions like the poly-foam found in most covers.

---

100% Latex Comfort Pad provides additional support and further reduces pressure points. One piece separate drop in design bridges individual firmness to provide comfortable center bed support. Other companies use poly-foam that sleeps hot and will create body impressions in 5 or 6 years.

We also offer a Sensus viscoelastic memory foam (2-1/2 inch thick) comfort pad for the more conforming and pressure relieving sleep surface. And our Valerie Air combines both latex and memory foam for the most comfortable bed ever. Dual Adjustable firmness is provided by the air chambers which conform to each individual's body shape - for correct spinal alignment, relief from back pain, stiff, sore muscles and the elimination of pressure points.

---

100% Talalay Latex cushioning is complemented with 100% talalay Latex Rails for continuous edge-to-edge latex support and comfortable bedside seating.

Latex AirCore rails are wrapped in edge-edge cloth to prevent bowing or loss of shape. Each AirCore is interchangeable with one of 5 firmness solid talalay latex cores. If one person wants air and one wants 100% latex support, just order a different core during our 90 night test rest. As always, if our mattress can't be adjusted for the perfect support for your body, we'll give your money back!





Optional 3-Zone construction for precise spinal adjustment. . Choose your air delivery system:
Standard or
Digital

DigitalPump has
1) Dual Controls,
2) Pressure readings,
3) favorite setting




State-of-the-art plant allows 24 chamber air-cores
with welded I-Beams,
Side to side I-Beams allows surface to better contour to the curves of the spine.

Uses conventional bed linens.
Easy no-tools 15 minute setup


Our Durable foundation features solid wood side construction with a clear-fir-slat top for long lasting even support.