Care Instructions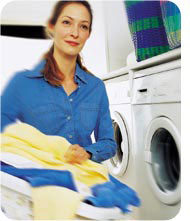 Your new St. Dormeir wool protector will, with care, give you many years of comfort. Please note these simple instructions; following them will greatly extend the life of your protectors.
Machine wash in warm (Not Hot) water, on a gentle cycle. Use a good quality detergent. Do not bleach, or use a detergent that contains bleach. Use the maximum water level. Do not launder any other items except St. Dormeir wool protectors together. Do not overload the machine. We recommend washing a mattress protector by itself, or no more than two pillow protectors in a load.
Machine dry on gentle, at medium, NOT high heat. Do not overdry, as this can make the wool fill brittle. You should remove your St. Dormeir protector from the dryer as soon as it no longer feels damp. Do not Iron. Do not Dryclean.
The cotton terry cover is a special type of weave that maximizes absorption, to ensure the driest, most comfortable sleeping environment. Terry weave will "lint" more than other weaves, so please be aware that after every laundering, you will find some lint in your dryers lint trap. This is normal.
After laundering, you will find your St. Dormeir protector will appear to have shrunk a little. However, when you put the protector back on your mattress, it stretches easily to fit. They are made this way to always fit properly without bunching. Pillow protectors are made slightly oversize, and will fit beautifully after their first wash.