New Mattress Equals
Better Health
The right new mattress provides significant health improvements:
70.8% in sleep comfort
62.0% in sleep quality
55.3% in back pain
50.7% in spine stiffness
"Sleep deprivation impacts us physically, which can negatively affect our coordination, agility, mood and energy," says Dr. Bert Jacobson, professor and head of the School of Educational Studies at Oklahoma State University (OSU). "Our research shows that sleeping better and longer leads to improvements in athletic performance, including faster sprint time, better endurance, lower heart rate, and even improved mood and higher levels of energy during a workout."
Oklahoma University study, comparing sleeping on a new mattress to sleeping on a mattress five years old or older.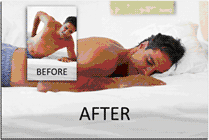 New Mattress Reduces Back, Neck and Shoulder Pain
81% of Americans report waking up with back, neck or shoulder pain; nearly half (46 percent) report they
frequently
(at least a few times a month) wake up with pain that limits their physical performance. The good news is sleeping on a new mattress significantly improves sleep quality during the night and reduces physical pain during the day. When sleeping on new a bedding system, study respondents reported significant improvements in:
lower back pain (62.8 percent)
shoulder pain (62.4 percent)
back stiffness (58.4 percent)
sleep quality (64.4 percent)
sleep comfort (69.6 percent)


The
FloBeds vZone
can target specific areas of pain and offer pressure relief. Providing just the right firmness from Head-to-Toe, this remarkable mattress has helped ease pain for thousands.

FloBeds' vZone mattress is a dream come true for people with sleep-related pain. The revolutionary design supports the spine's natural curve; cushions painful pressure points; fits all body types and works for people who sleep alone or share a bed. Read answers to frequently asked pain related questions (FAQs) and see what people who sleep on a vZone mattress say about how much better they feel.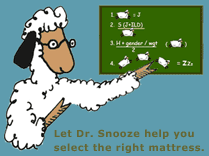 Click here for help in
selecting your mattress.