Our covers unzip, so you can easily hang your mattress top in the sun. We suggest sunning your mattress-top a couple of times a year. Sunning will kill dust mites. Latex and visco-elastic are both dust mite resistant. If you suffer from severe allergies, with the top off, you can vacuum the inside top of your mattress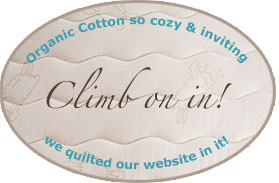 components to remove allergens. That, combined with your sunned mattress top will provide you with cleanest and most comfortable mattress possible.
Your mattress cover may be spot washed with cold water and mild soap. It should be line dried.
Do not machine wash.
Do not put in dryer.

Your FloBeds Talalay Latex is an incredibly durable and resilient foam rubber. Used and cared for properly it will last you 20 years and more. Encased in the FloBeds cover it is protected from most of the environmental factors that can shorten the product life. The most common factor that can speed up natural oxidation of latex is sunlight. Keep your FloBeds latex inside your cover with your bedding on top. Once or twice a year, remove the top cover for sunning outside, but be sure to cover the top of your unprotected latex, especially if it is in near a window.
If you spill something on your latex mattress, the latex can be washed with a mild soap and water. Dry first by compressing latex with towel to absorb excess moisture and then air dry with a fan for several hours.
Your latex does not need to be turned or rotated. Remember, you can adjust the firmness of your FloBed Latex Mattress by rearranging the order of your cores. The latex core closest to your body has the greatest affect. Firm over Medium is firmer than Medium over Firm. You can order new cores from FloBeds if you don't have the firmness adjustment available.